Sunday, August 30, 2020 was a special day for our church family. On that day, many of us gathered at Wadleigh Park just down the road from the church, to witness six baptisms and welcome three new members.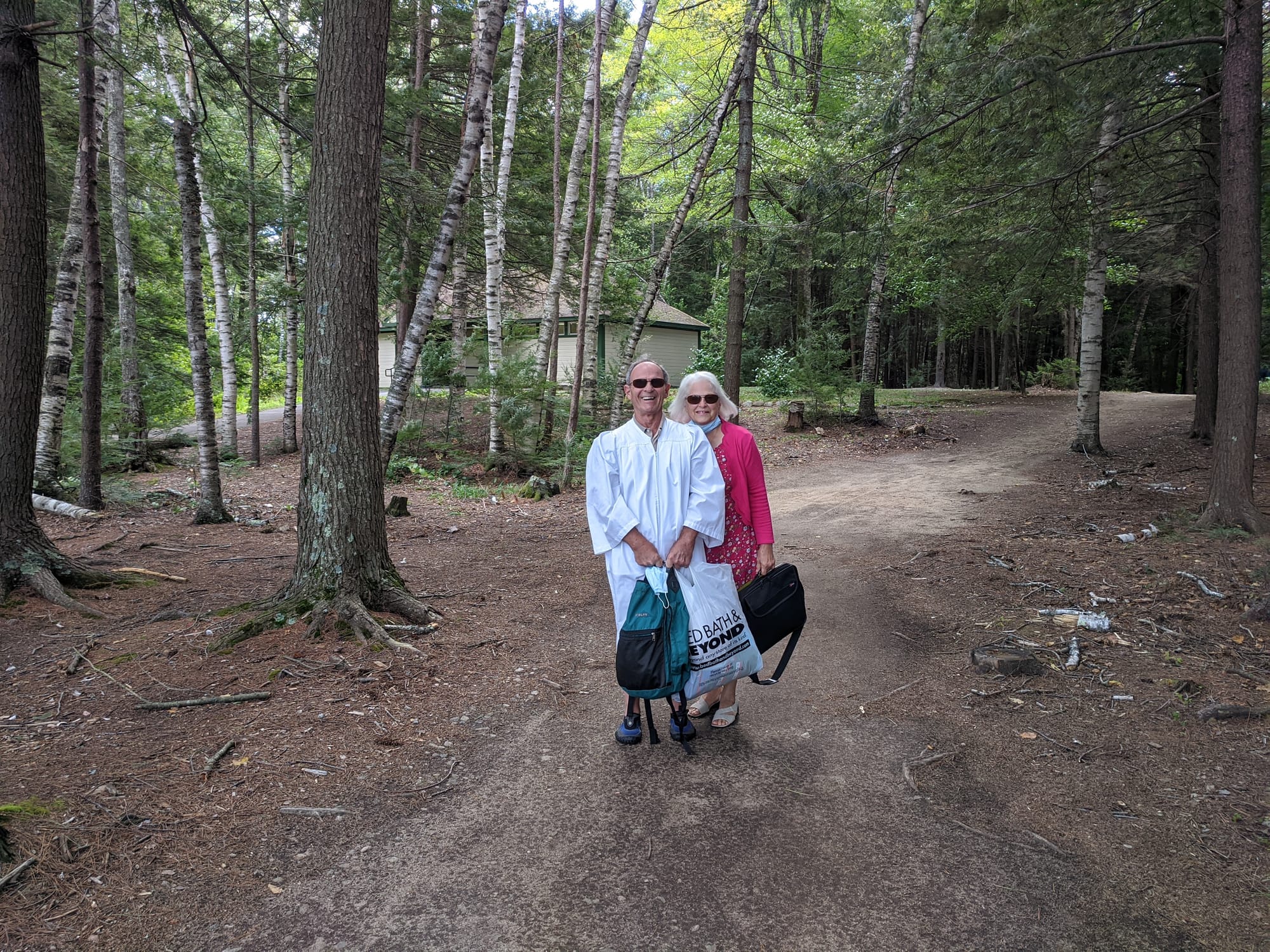 It was an unseasonably cool and blustery morning, but everyone arrived prepared. the festivities began with welcoming into membership Liberty Sysyn, Tom Merullo, and Lucas Hahn.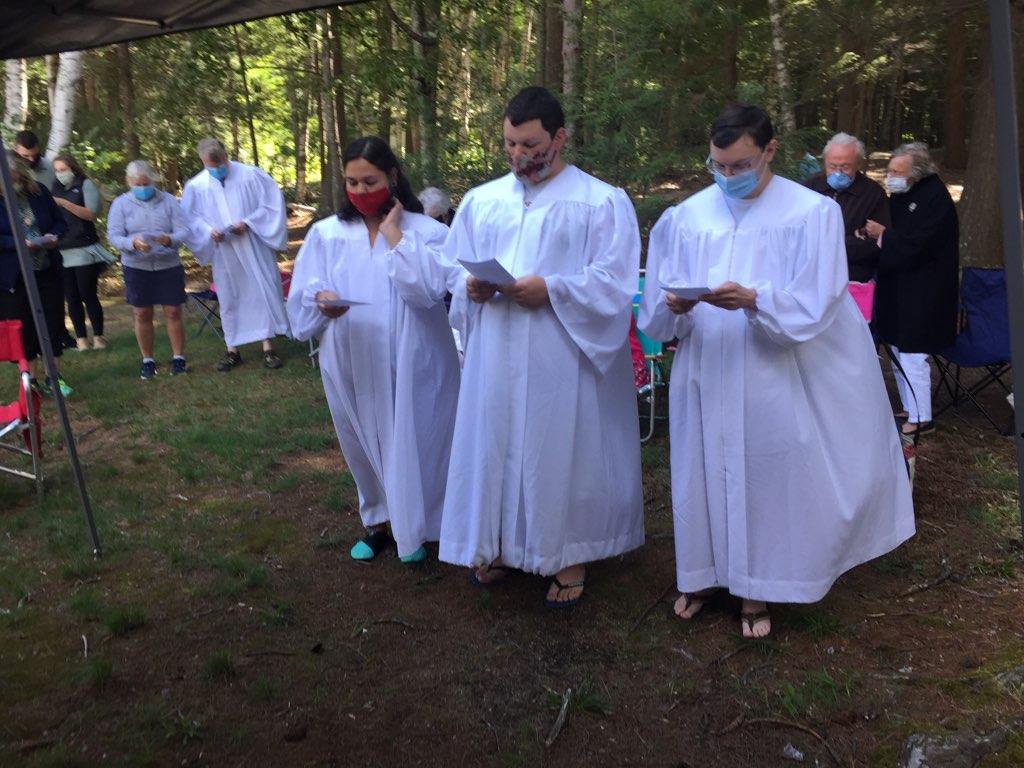 Then, Pastor Gary, and our six who had chosen to be baptized this morning, braved the choppy water of Kezar Lake.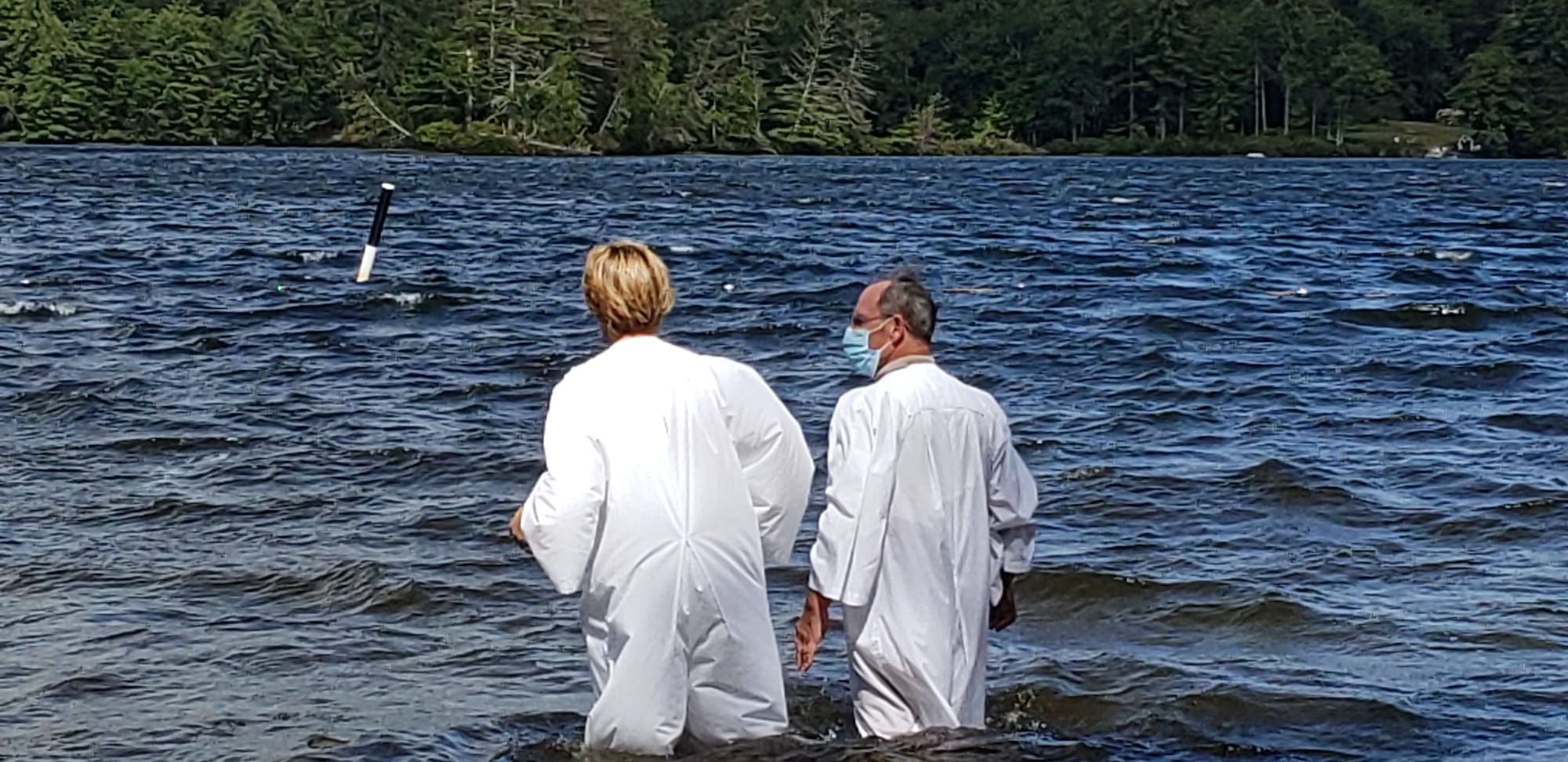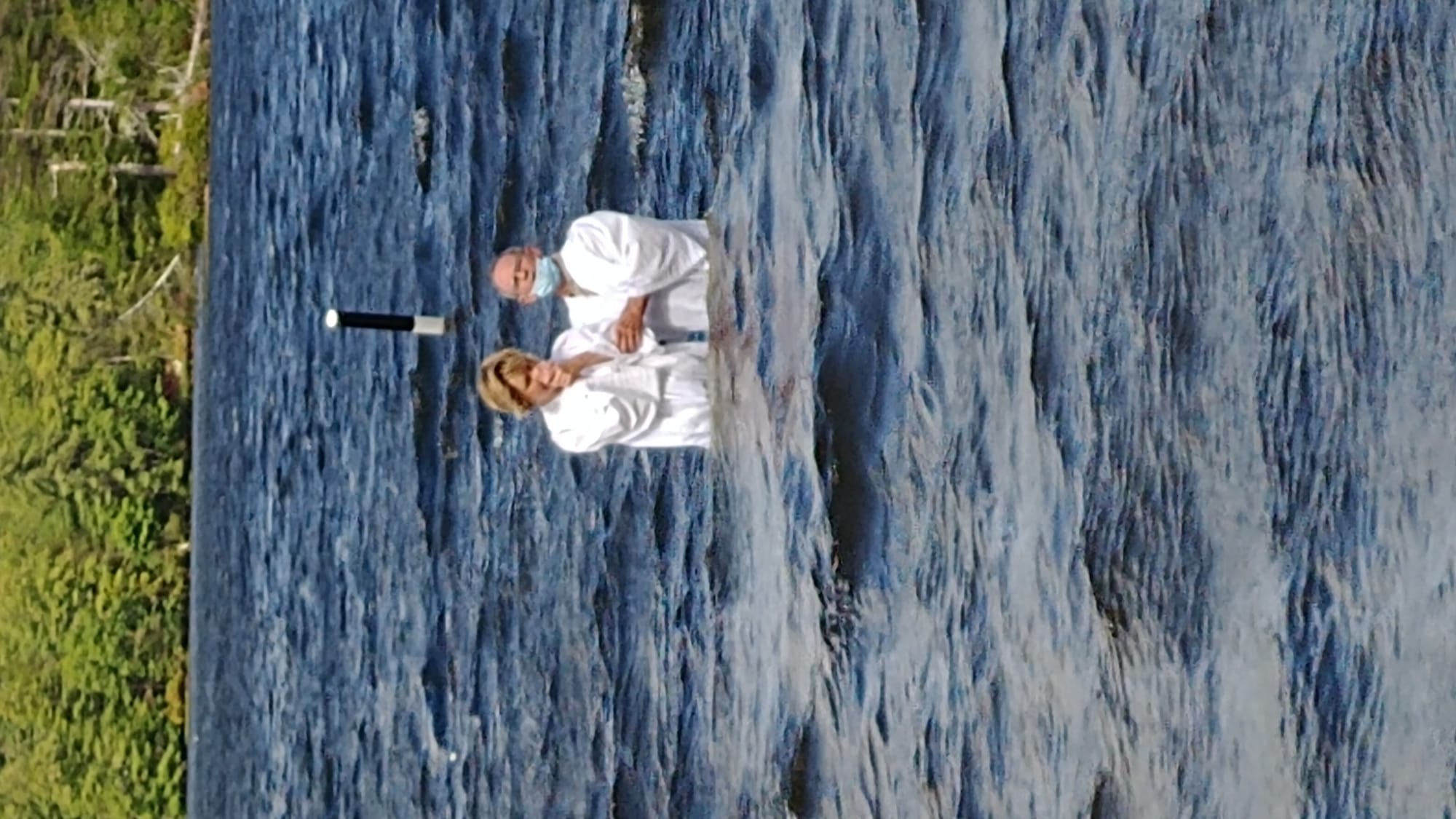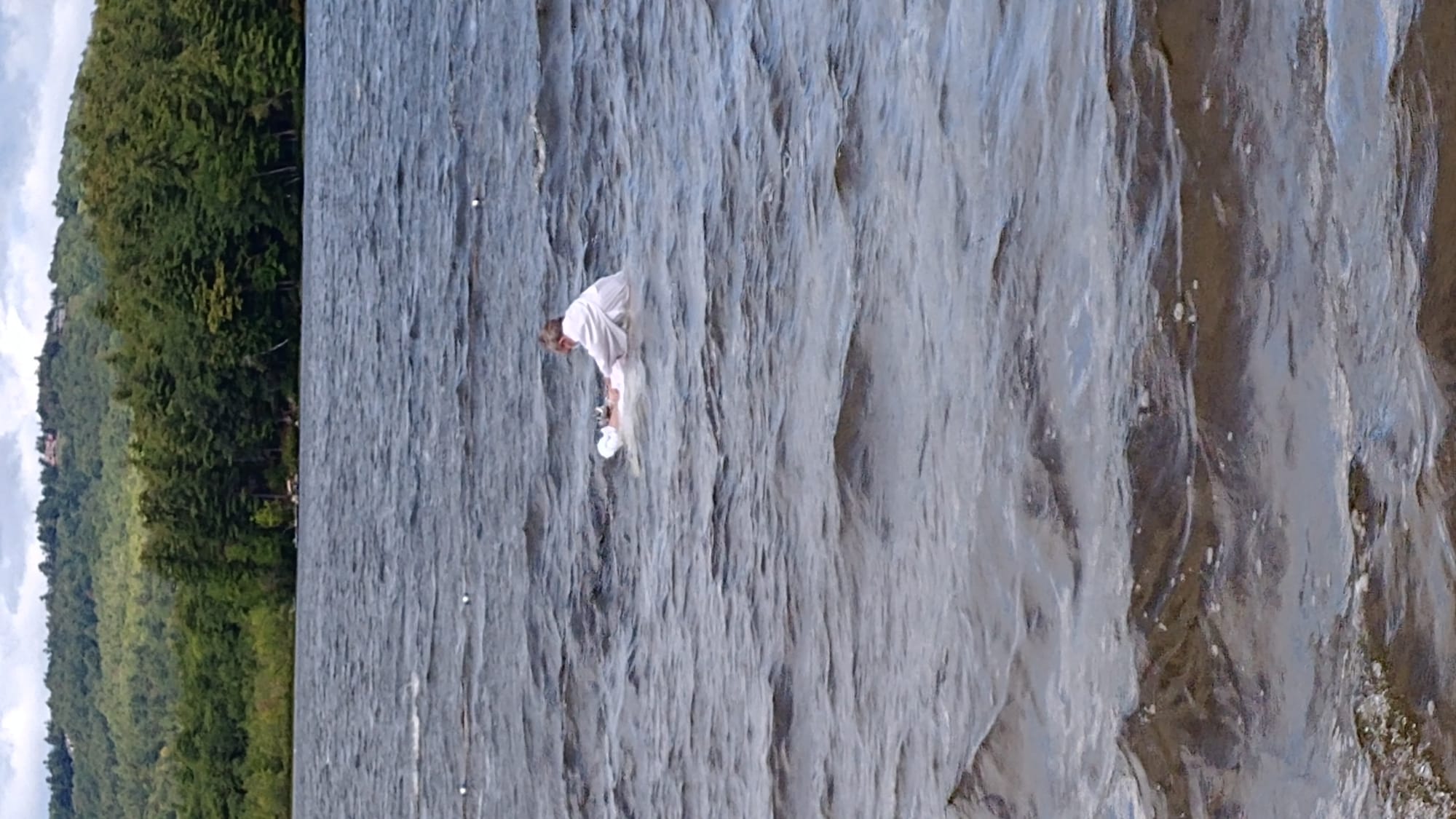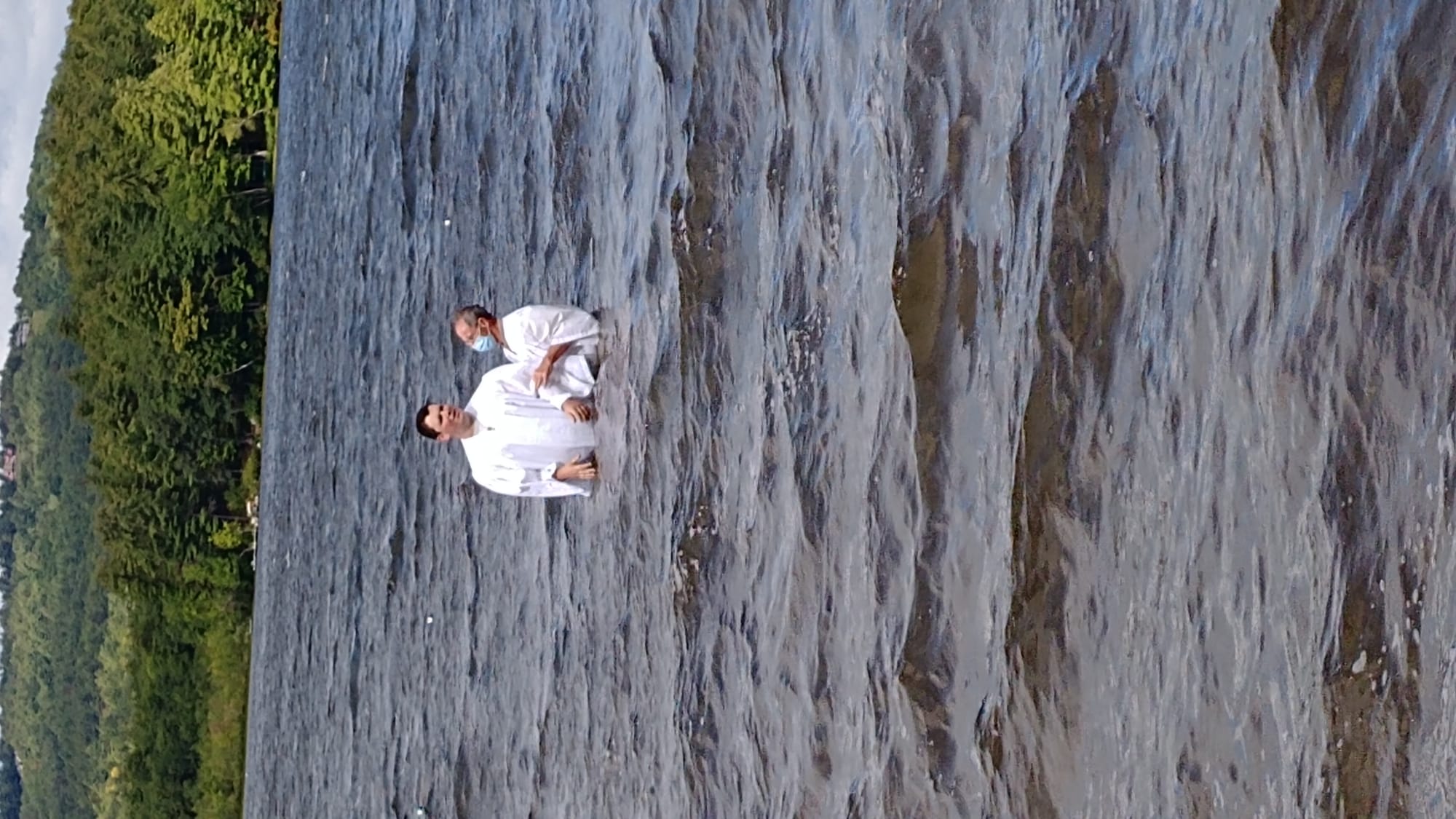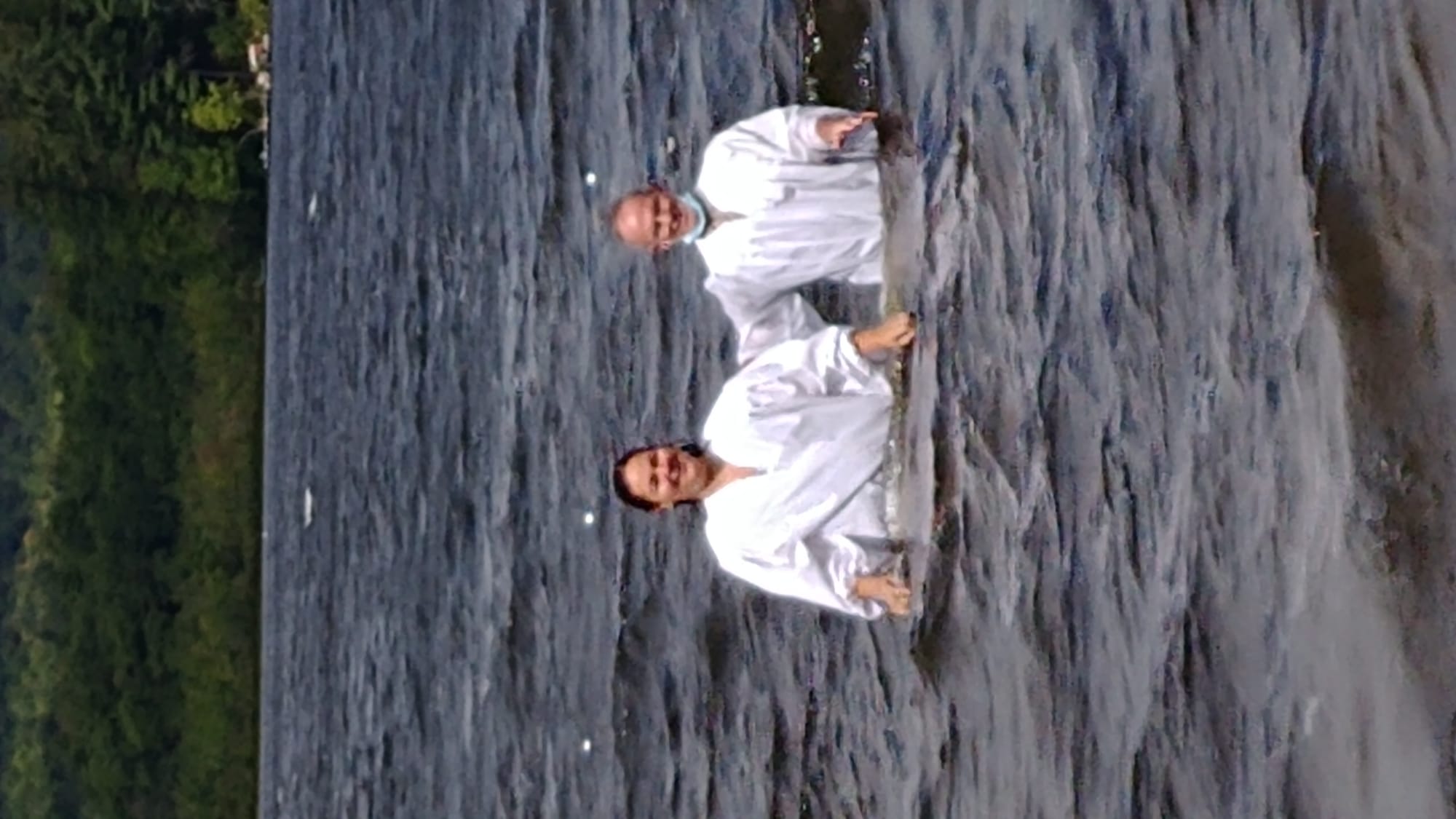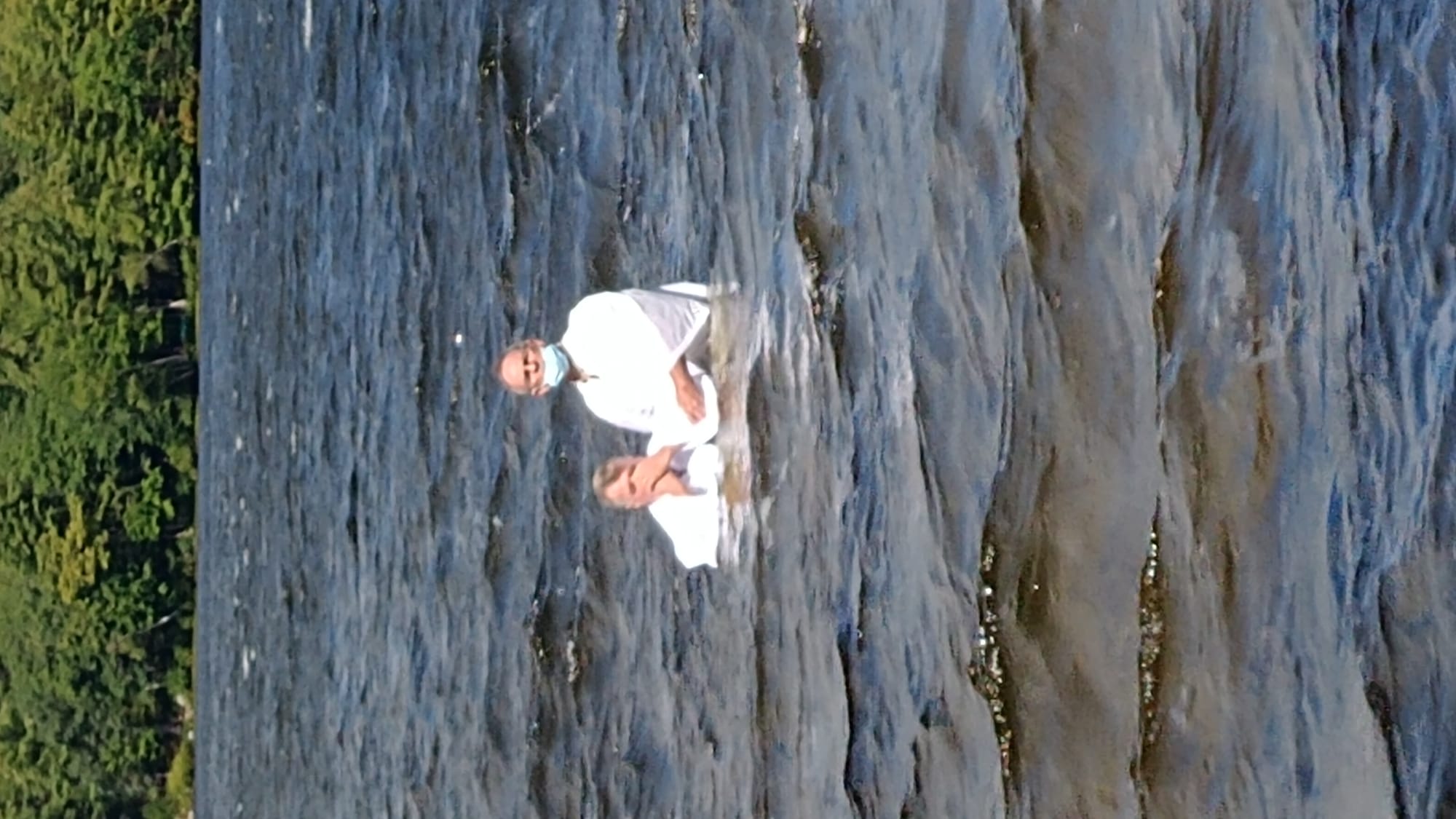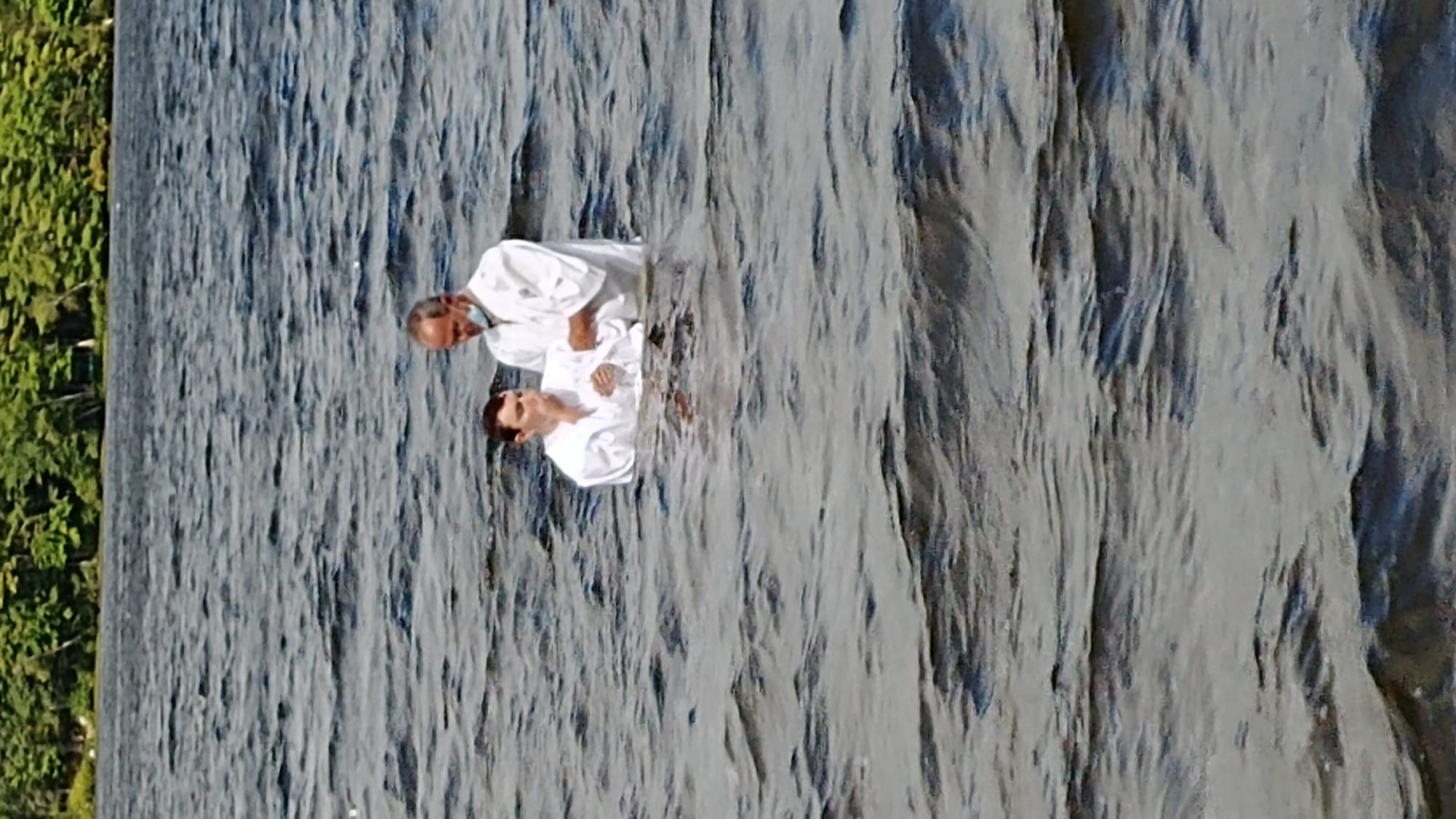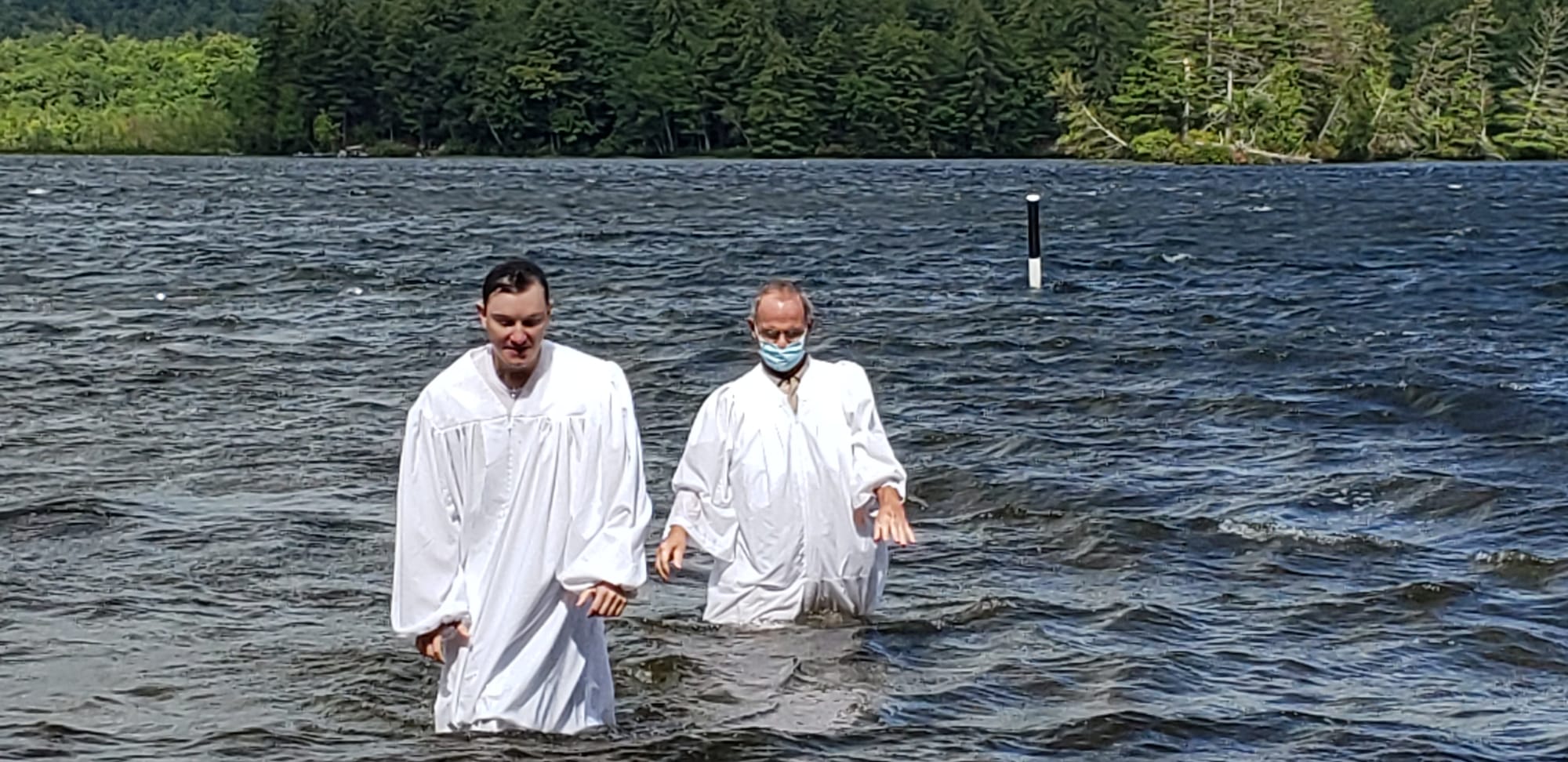 Nancy Dean, Mark Peterson, Sarah Gray, Tom Merullo, Lucas Hahn, and Liberty Sysyn all received their baptism blessing from Pastor Gary in the cool water. I baptise you in the name of .........Pastor shared later how inspirational it was to look up after each baptism to see many of our church family witnessing with applause and cheers of encouragement.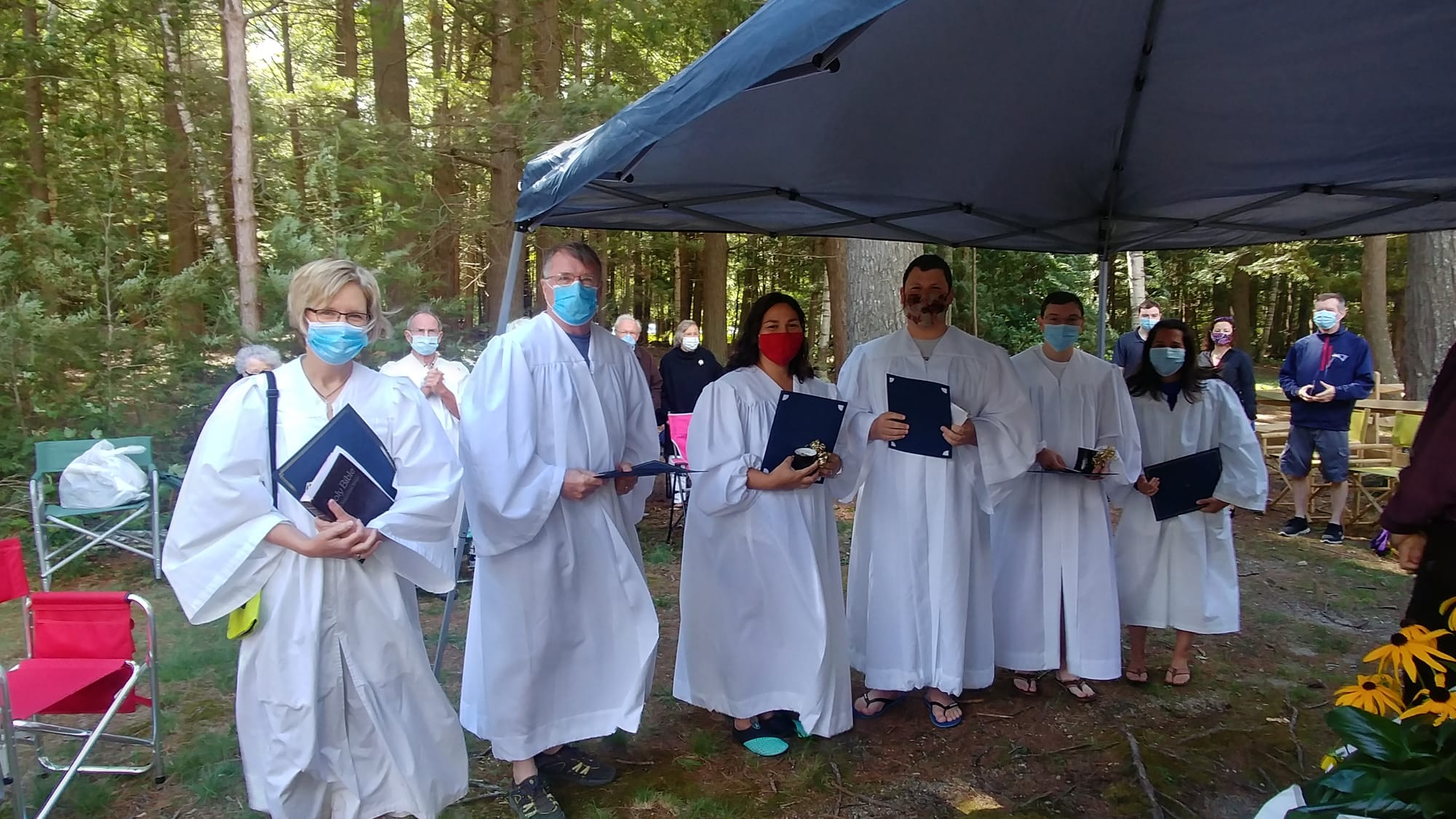 Once back on shore, there was time for food and fellowship, but not until after the six who were baptized, and Pastor Gary, had changed into dry clothes!
Nancy Dean's testimony, printed below, best describes the significance and deeply meaningful experience that was shared on this blessed morning.
To be baptized today is to take an important step forward in my Christian walk.
I came to understand as a teenager that our relationship with God—Father, Son, and Holy Spirit—can be intimate and tender, constant and confident. I had grown up in the church, but until I took the step of confessing my need for God, not only to forgive my sins, but to be my daily companion, guide, conscience, caretaker, hope, and light—to be my everything—my understanding of the Christian life was very limited, and God's role in my life was very small.
Over the past 35 years, my understanding of our great God has grown and grown, and my desire to serve Him has, too. I often pray God will use me in big ways, though I don't exactly know what that could mean, and often feel like I am too distracted, weak, and inadequate to make a difference for His kingdom. But even as I fail Him, I think, "His grace is sufficient for me." Putting my hand in His each morning, we start again on this amazing adventure of ups and downs, but ever moving forward, eye on the prize.
I'm grateful to take this step along the journey surrounded by a dear group of brothers and sisters in faith, who have consistently welcomed me into fellowship with them, even though I can't consistently be present.
I'm grateful to have Pastor Gary's "shepherding," as I see and hear his deep devotion to the Lord and to his flock in the personal concern of his prayers, the joy of his singing, the sincerity of his tears, and the confidence and vision of his sermons, especially in recent weeks to help guide and strengthen us as we try to navigate these unstable times. And I am grateful for Gail at his side, and alongside all of us.
So, as these waters wash over me, I confess that Jesus is Lord, and my desire is to continue to journey with Him daily along the narrow way of the Christian life, sharing the Good News, suffering if need be, and growing ever closer to the One who makes it all "well with my soul."