INVITE A FRIEND TO CHURCH THIS SUNDAY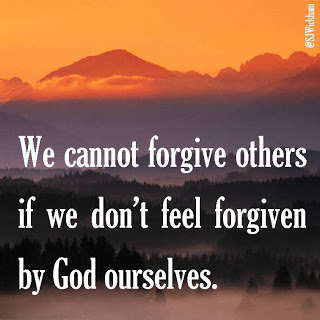 May 19, 2019 -- Worship Service is at 10:30AMFifth SUNDAY OF EASTER Fellowship AFTER SERVICE

MAY 2019 ( new as of May 9, 2019)

My Sisters and Brothers,Right from the start, I knew that Sherlock was going to be a dog that was full of surprises as well as many table scraps. I was correct in my thoughts. As a young dog, the boys would blow up balloons, tie the balloons to a string, and hang them over a tree branch. The balloons could then be raised or lowered to the right height. The right height would be just out of Sherlock's jumping range, but so his nose could just touch the balloon. He would jump and jump until they would have mercy on him and lower the balloon so he could reach it. Once he had a hold of it--BOOM! There was no letting go of it until he had shredded it into 100 tiny pieces, bit by bit; as if revenge was on his mind.Sherlock always tried to slip away hoping to see the world beyond the backyard fence. Those times when he would escape I knew what was coming my way. It would always be around midnight that I would hear him return scratching at the front door. I don't know where in the world he went, but he would come back smelling a worse smell than you could imagine. Whoa, Sherlock, time for a bath. SO, outside we would go with a clothespin on my nose (not really) , a set of goggles over my eyes, and a bottle of dishwashing soap in my hand. What a miserable job!! My only joy at that point was knowing how much Sherlock hated to have his bath as much as I hated doing it.I remember many times coming home only to find his face in the garbage can, looking up at me knowing he had been busted, yet, with no remorse on his face. As a reward I took him to the park and allowed him to chase squirrels which he loved to do. He was never able to catch one, but that never discouraged or stopped him from trying. Over the years, I have often wondered why the phrase: "It's a dogs life" has ever been used in a negative way.His most famous trick for which he was known was that he was unable to be contained in the living room. No matter what barrier, gate, or devise we used; Sherlock was able to escape like Houdini. I guess it was within his spirit to look for and experience the surprises of life.
As we enter into this most wonderful time of year; when the world is blooming; I am reminded of our own sense of adventure. Let us allow our Spirit to experience all the surprises God has in store for us here in Sutton. Woof Woof!Grace and peace,Pastor Gary
Matthew 18:21-35 New Revised Standard Version (NRSV)Forgiveness
21 Then Peter came and said to him, "Lord, if another member of the church[a] sins against me, how often should I forgive? As many as seven times?" 22 Jesus said to him, "Not seven times, but, I tell you, seventy-seven[b] times.
The Parable of the Unforgiving Servant
23 "For this reason the kingdom of heaven may be compared to a king who wished to settle accounts with his slaves. 24 When he began the reckoning, one who owed him ten thousand talents[c] was brought to him; 25 and, as he could not pay, his lord ordered him to be sold, together with his wife and children and all his possessions, and payment to be made. 26 So the slave fell on his knees before him, saying, 'Have patience with me, and I will pay you everything.' 27 And out of pity for him, the lord of that slave released him and forgave him the debt. 28 But that same slave, as he went out, came upon one of his fellow slaves who owed him a hundred denarii;[d] and seizing him by the throat, he said, 'Pay what you owe.' 29 Then his fellow slave fell down and pleaded with him, 'Have patience with me, and I will pay you.' 30 But he refused; then he went and threw him into prison until he would pay the debt. 31 When his fellow slaves saw what had happened, they were greatly distressed, and they went and reported to their lord all that had taken place. 32 Then his lord summoned him and said to him, 'You wicked slave! I forgave you all that debt because you pleaded with me. 33 Should you not have had mercy on your fellow slave, as I had mercy on you?' 34 And in anger his lord handed him over to be tortured until he would pay his entire debt. 35 So my heavenly Father will also do to every one of you, if you do not forgive your brother or sister[e] from your heart."
SERMON TITLE: Working at Forgiveness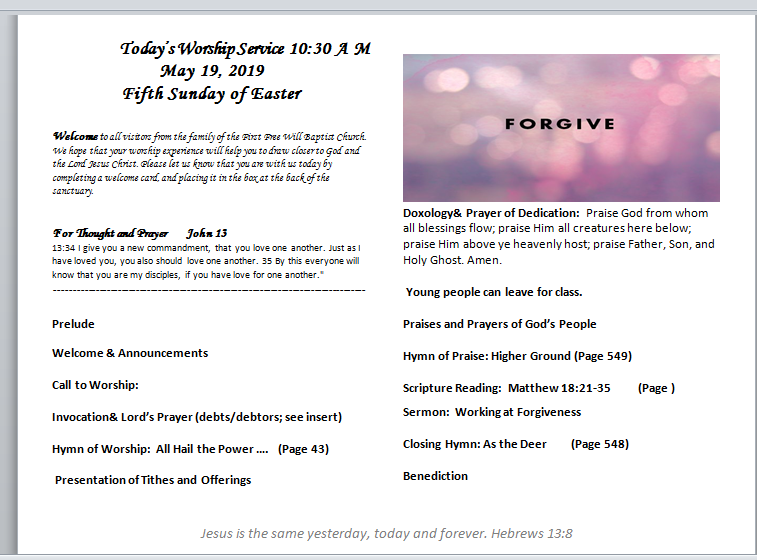 February 3, 2019Pastor's Report

Gail and I want you to know that we experience the love of God connecting us as His Church Family. There is a unique warmth within our fellowship that exists because God's LOVE is at the center of all we do. It can be felt in our worship, our Communion, tasted in our potlucks, our activities, our commitment to God, and in the way we care for each other. Let us never underestimate the power which our story tells others.
There is no doubt that 2018 was a very good year for us by any measurement. If one reads the various reports, one is able to remember, and clearly understand the movement of God within our fellowship. His purpose for us is also clear: we are to be His faithful witness bringing the Good News of Kingdom life through the power of Jesus. We are planting the presence of God's Spirit by spreading it in North Sutton and the surrounding areas through word and deed.
I imagine that many of you have gone fishing. As a kid, I loved to take stones and throw them in the pond and watch the rings circle outward from where the rock landed. This rock throwing is not very good for attracting fish, but represents a good way for our Church to move forward from its center. To move forward we need people who are home (church) based disciples and other people who are outward going disciples. The important piece is that both home and outward ministry move forward together; even though we have different gifts and skills.
In the Book of Acts 6:7 we read, "The word of God continued to spread and the people increased in number……" The imperative section of this passage is not "numbers," but the "word of God continued." Like the ripple of a stone thrown into the fishing pond; so shall the Church of God be.
FFWBC is God's unique Church. Who we are and how we serve is given to us by the Holy Spirit. Let us remember that our mission also comes with the power to accomplish it. We are a group of people who love each other, who care for each other, who share the good and difficult times of life.
During 2019, in addition to the regular pastoral ministry, and current ministries we have in place; I will be motivated by Ephesians 4: 12-16, "to equip the saints for the work of the ministry and for building up the body of Christ."
We will continue to offer new Bible study classes to help us grow in the knowledge of our faith. I encourage everyone to attend at least one study.
Part of the preaching ministry this year will be comprised of a list of your favorite passages and/or themes. Also, I will emphasize the mighty words and deeds of Jesus (Matthew 4:16-16:21) to better explain how the Kingdom of God changes lives.
While offering a traditional worship service; there will be opportunities for enhancing our morning service with events like Teen Challenge, through music, lay participation, and worship reaching out into our community.
We will continue to develop leadership skills and improve communication within our Church community at the "Board" level.
I will seek to help all members and friends of FFWBC to use their God given talents in the building of His church. God the Father wrote the symphony, Jesus is our encourager, and the Holy Spirit is our conductor. We play God's music by using our gifts.
Gail and I look forward to being with you this year, and send our love and pray God's grace for you and your family.
Peace,
Pastor Gary