FIRST FREE WILL BAPTIST CHURCH.
WE ARE AN AMERICAN BAPTIST CHURCH FAMILYWORSHIP SERVICE @ 10:30 AM June 13, 2021 https://youtube.com/embed/9khJXoL9QGk?autoplay=1.
Right click then chose "open in new window.
WE ARE A WARM AND CARING CONGREGATION SERVING GOD BY MINISTERING TO EACH OTHER AND OUR COMMUNITY ICE CREAM SOCIAL AFTER OUR SERVICE ON JUNE 20
ALL WELCOME NEW BIBLE STUDY IN THE FALLFor Thought and Prayer
To fulfill the ancient promise of salvation, O God,
you made a covenant with our ancestors
and pledged them descendants more numerous than the stars.
Grant that all people may share in the blessings of your covenant,
accomplished through the death and resurrection of your Son
and sealed by the gift of your Spirit. Amen.
---------------------------------------------------------------------------------------------------------------------------------
https://youtube.com/embed/dnvg0OtupuI?autoplay=1
How Great Thou Art
Right click on link above, then chose open in new window
-----------------------------------------------------------------------------------------------------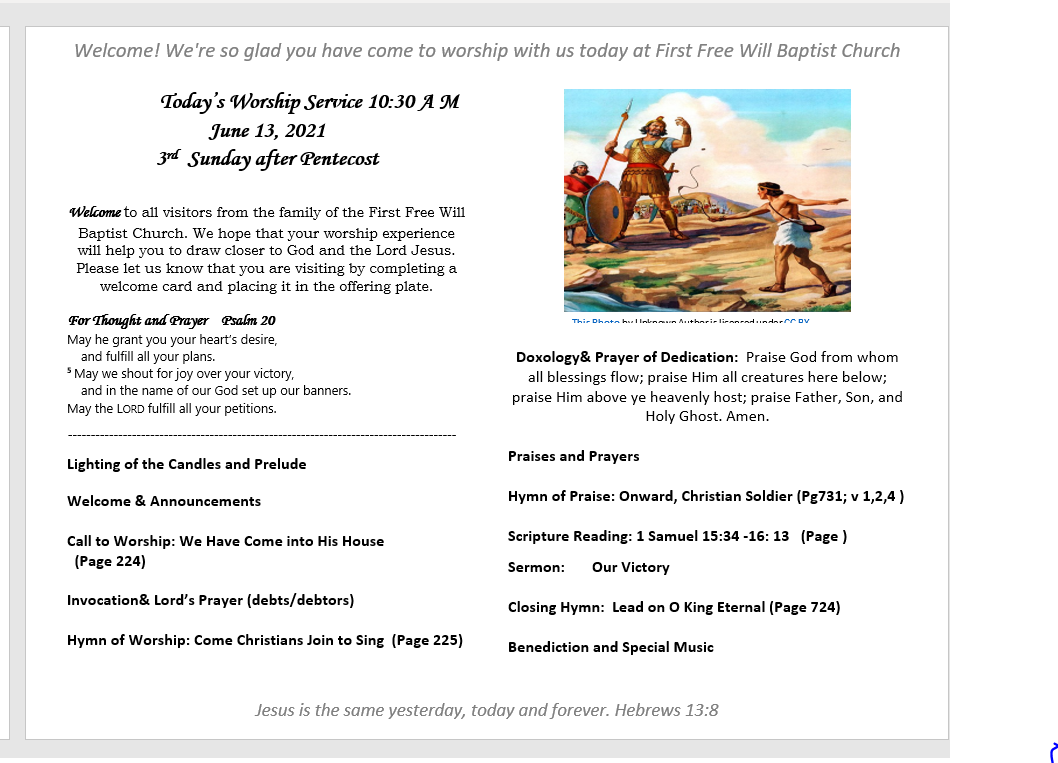 Invocation and Saying of Lord's Prayer (debts/debtors):
Gracious God, in Jesus we find our true Lord. As His people we worship and give thanks for this great gift of new life. Help us to draws closer to you by loving, trusting, and listening to the Voice that calls to us in the night. Nurture and equip us as faithful leaders of your gospel message of salvation to all those in need. This we pray in faith through Jesus our Lord who taught us to pray, saying: Our Father who art in heaven ….The Lord's PrayerOur Father, who art in heaven,
hallowed be thy name.
Thy Kingdom come,
thy will be done,
on earth as it is in heaven.
Give us this day our daily bread. And forgive us our debts, as we forgive our debtors.
And lead us not into temptation,
but deliver us from evil.
For thine is the kingdom, the power, and
the glory forever. Amen
_______________________________________________
Hymn of Worship - https://youtube.com/embed/ca9LnzJnpjQ?autoplay=1
Right click on link and then click open in new window
Days of Elijah
__________________________________________
SERMON TITLE: OUR VICTORY
_________________________________________________
1 Samuel 15:34-16:13 New Revised Standard Version
34 Then Samuel went to Ramah; and Saul went up to his house in Gibeah of Saul. 35 Samuel did not see Saul again until the day of his death, but Samuel grieved over Saul. And the Lord was sorry that he had made Saul king over Israel.
David Anointed as King
16 The Lord said to Samuel, "How long will you grieve over Saul? I have rejected him from being king over Israel. Fill your horn with oil and set out; I will send you to Jesse the Bethlehemite, for I have provided for myself a king among his sons." 2 Samuel said, "How can I go? If Saul hears of it, he will kill me." And the Lord said, "Take a heifer with you, and say, 'I have come to sacrifice to the Lord.' 3 Invite Jesse to the sacrifice, and I will show you what you shall do; and you shall anoint for me the one whom I name to you." 4 Samuel did what the Lord commanded, and came to Bethlehem. The elders of the city came to meet him trembling, and said, "Do you come peaceably?" 5 He said, "Peaceably; I have come to sacrifice to the Lord; sanctify yourselves and come with me to the sacrifice." And he sanctified Jesse and his sons and invited them to the sacrifice.
6 When they came, he looked on Eliab and thought, "Surely the Lord's anointed is now before the Lord."[a] 7 But the Lord said to Samuel, "Do not look on his appearance or on the height of his stature, because I have rejected him; for the Lord does not see as mortals see; they look on the outward appearance, but the Lord looks on the heart." 8 Then Jesse called Abinadab, and made him pass before Samuel. He said, "Neither has the Lord chosen this one." 9 Then Jesse made Shammah pass by. And he said, "Neither has the Lord chosen this one." 10 Jesse made seven of his sons pass before Samuel, and Samuel said to Jesse, "The Lord has not chosen any of these." 11 Samuel said to Jesse, "Are all your sons here?" And he said, "There remains yet the youngest, but he is keeping the sheep." And Samuel said to Jesse, "Send and bring him; for we will not sit down until he comes here." 12 He sent and brought him in. Now he was ruddy, and had beautiful eyes, and was handsome. The Lord said, "Rise and anoint him; for this is the one." 13 Then Samuel took the horn of oil, and anointed him in the presence of his brothers; and the spirit of the Lord came mightily upon David from that day forward. Samuel then set out and went to Ramah.
____________________________________
Hymn of Praise - When It's All Been Said and Done
(When song finishes, hit the back arrow on your browser to return to Church website)
------------------------------------------------------------------------------------------
FOR THE YOUNG AT HEART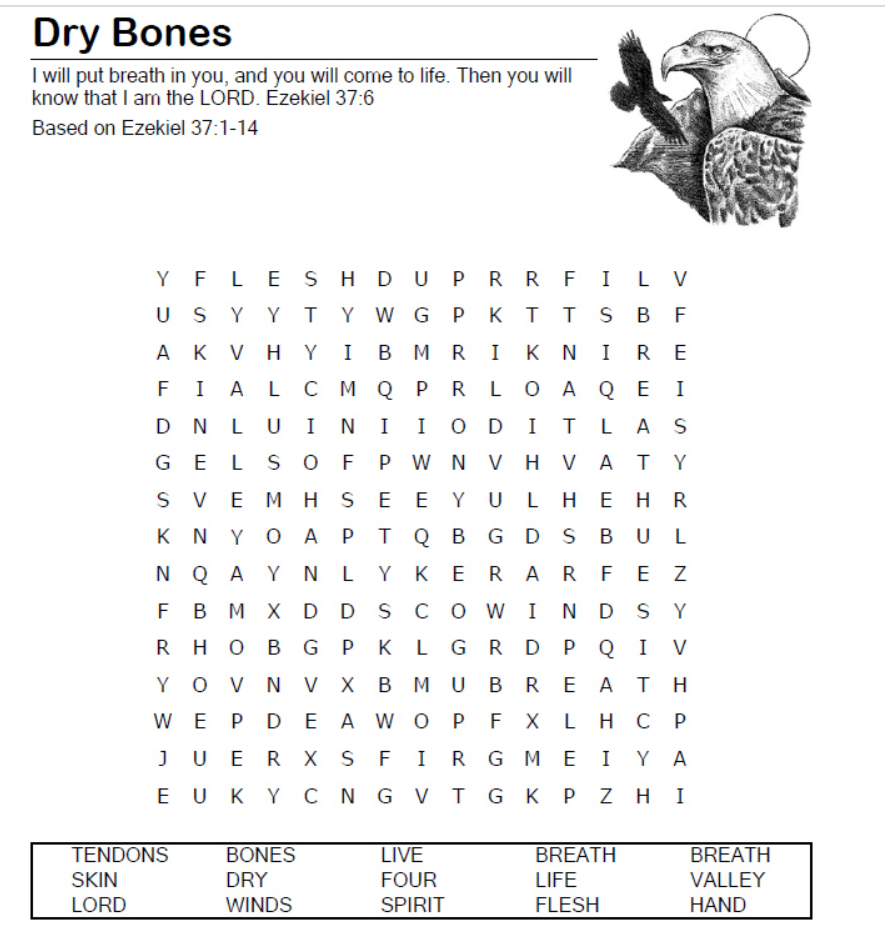 ___________________________________________________________________
Closing Hymn - Seek Ye First
(When song finishes, hit the back arrow on your browser to return to Church website)

_______________________________________________Benediction Prayer:
May the love of God sweep through all of creation, the costly grace of Jesus shine like the sun on every longing life, and the Holy Spirit warm every cold place with holy fire. Amen Let us go out into our community bringing peace this day, and forever more -- seeking the lost. Amen.