FIRST FREE WILL BAPTIST CHURCH.
WE ARE AN AMERICAN BAPTIST CHURCH FAMILYWORSHIP SERVICE @ 10:30 AM September 26, 2021 18th Sunday after Pentecost https://youtube.com/embed/9khJXoL9QGk?autoplay=1.
Right click then chose "open in new window.
WE ARE A WARM AND CARING CONGREGATION SERVING GOD BY MINISTERING TO EACH OTHER AND OUR COMMUNITY
For Thought and Prayer
To fulfill the ancient promise of salvation, O God,
you made a covenant with our ancestors
and pledged them descendants more numerous than the stars.
Grant that all people may share in the blessings of your covenant,
accomplished through the death and resurrection of your Son
and sealed by the gift of your Spirit. Amen.
---------------------------------------------------------------------------------------------------------------------------------
https://youtube.com/embed/dnvg0OtupuI?autoplay=1
How Great Thou Art
Right click on link above, then chose open in new window
-----------------------------------------------------------------------------------------------------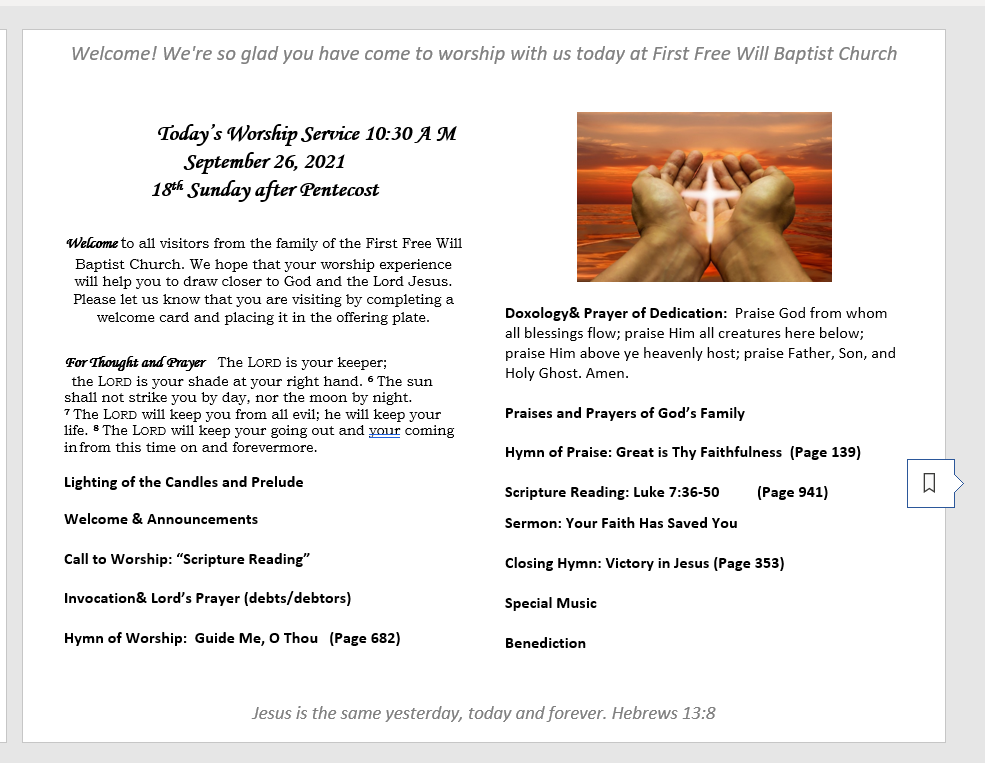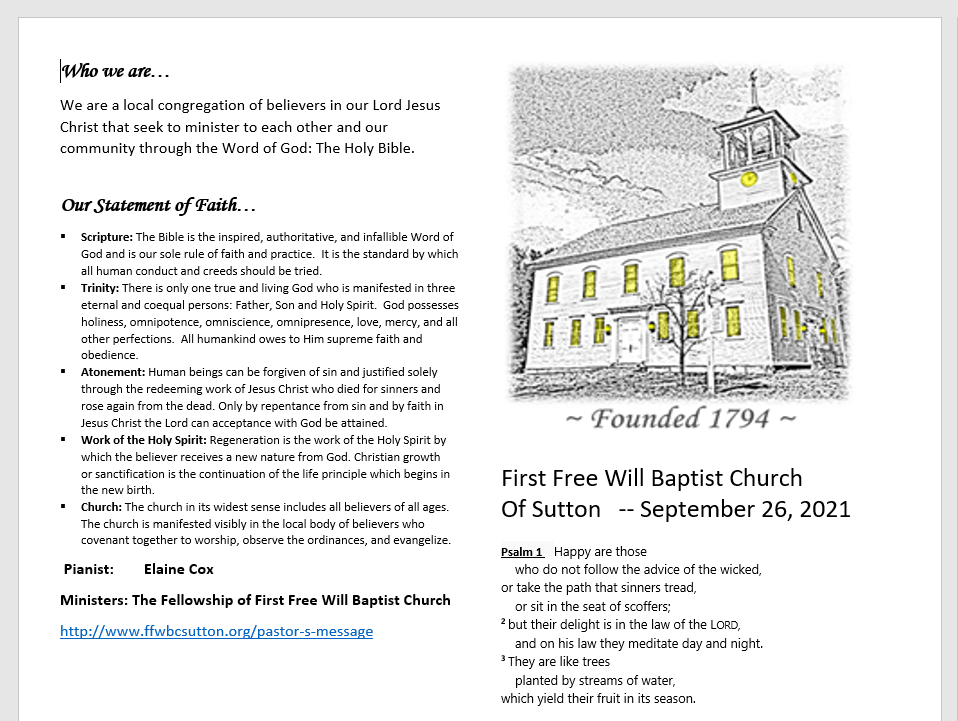 Invocation and Saying of Lord's Prayer (debts/debtors):
Gracious God, in Jesus we find our true Lord. As His people we worship and give thanks for this great gift of new life. Help us to draws closer to you by loving, trusting, and listening to the Voice that calls to us in the night. Nurture and equip us as faithful leaders of your gospel message of salvation to all those in need. This we pray in faith through Jesus our Lord who taught us to pray, saying: Our Father who art in heaven ….The Lord's PrayerOur Father, who art in heaven,
hallowed be thy name.
Thy Kingdom come,
thy will be done,
on earth as it is in heaven.
Give us this day our daily bread. And forgive us our debts, as we forgive our debtors.
And lead us not into temptation,
but deliver us from evil.
For thine is the kingdom, the power, and
the glory forever. Amen
_______________________________________________
Hymn of Worship - https://youtube.com/embed/ca9LnzJnpjQ?autoplay=1
Right click on link and then click open in new window
Days of Elijah
__________________________________________
SERMON TITLE: Your Faith Has Saved You
_________________________________________________
A Sinful Woman Forgiven Chapter 7
36 One of the Pharisees asked Jesus[a] to eat with him, and he went into the Pharisee's house and took his place at the table. 37 And a woman in the city, who was a sinner, having learned that he was eating in the Pharisee's house, brought an alabaster jar of ointment. 38 She stood behind him at his feet, weeping, and began to bathe his feet with her tears and to dry them with her hair. Then she continued kissing his feet and anointing them with the ointment. 39 Now when the Pharisee who had invited him saw it, he said to himself, "If this man were a prophet, he would have known who and what kind of woman this is who is touching him—that she is a sinner." 40 Jesus spoke up and said to him, "Simon, I have something to say to you." "Teacher," he replied, "speak." 41 "A certain creditor had two debtors; one owed five hundred denarii,[b] and the other fifty. 42 When they could not pay, he canceled the debts for both of them. Now which of them will love him more?" 43 Simon answered, "I suppose the one for whom he canceled the greater debt." And Jesus[c] said to him, "You have judged rightly." 44 Then turning toward the woman, he said to Simon, "Do you see this woman? I entered your house; you gave me no water for my feet, but she has bathed my feet with her tears and dried them with her hair. 45 You gave me no kiss, but from the time I came in she has not stopped kissing my feet. 46 You did not anoint my head with oil, but she has anointed my feet with ointment. 47 Therefore, I tell you, her sins, which were many, have been forgiven; hence she has shown great love. But the one to whom little is forgiven, loves little." 48 Then he said to her, "Your sins are forgiven." 49 But those who were at the table with him began to say among themselves, "Who is this who even forgives sins?" 50 And he said to the woman, "Your faith has saved you; go in peace."
____________________________________
Hymn of Praise - When It's All Been Said and Done
(When song finishes, hit the back arrow on your browser to return to Church website)
------------------------------------------------------------------------------------------
FOR THE YOUNG AT HEART
___________________________________________________________________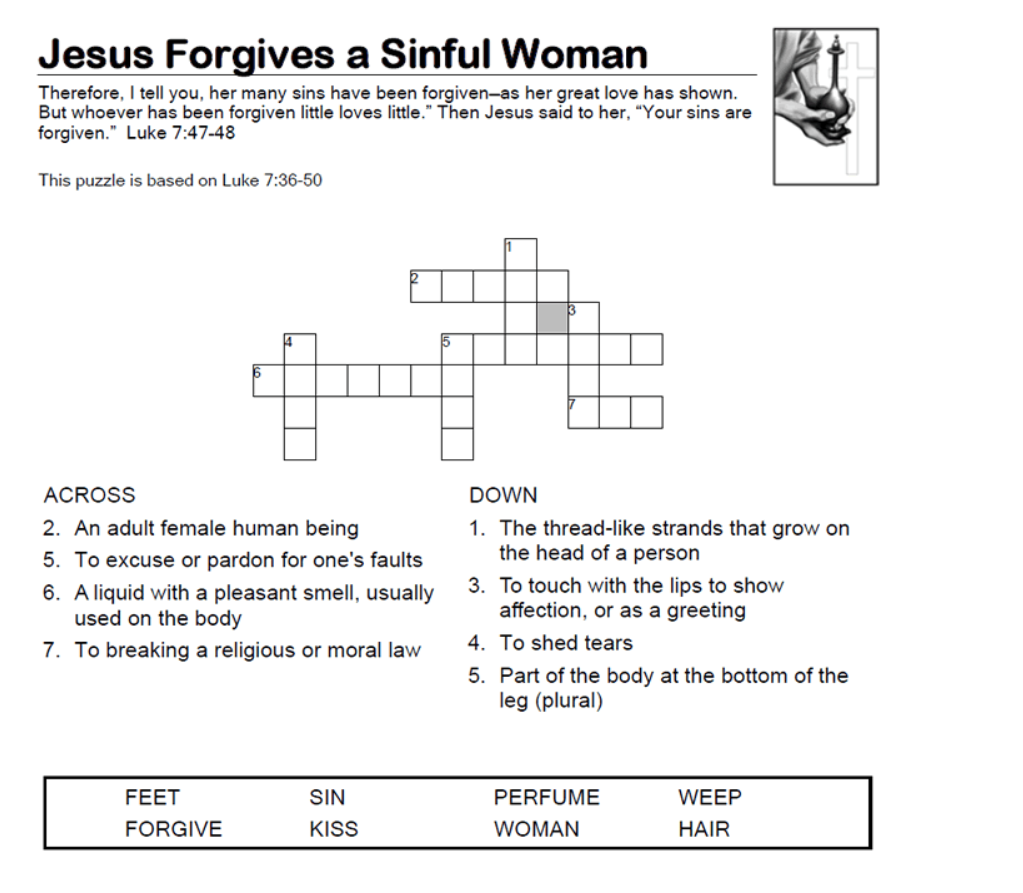 Closing Hymn - Seek Ye First
(When song finishes, hit the back arrow on your browser to return to Church website)

_______________________________________________Benediction Prayer:
May the love of God sweep through all of creation, the costly grace of Jesus shine like the sun on every longing life, and the Holy Spirit warm every cold place with holy fire. Amen Let us go out into our community bringing peace this day, and forever more -- seeking the lost. Amen.