FIRST FREE WILL BAPTIST CHURCH.WE ARE AN AMERICAN BAPTIST CHURCH FAMILYWORSHIP SERVICE @ 10:30 AM January 23, 2022, Third Sunday after Epiphany https://youtube.com/embed/9khJXoL9QGk?autoplay=1.
Right click then chose "open in new window.
WE ARE A WARM AND CARING CONGREGATION SERVING GOD BY MINISTERING TO EACH OTHER AND OUR COMMUNITY
Bible Study is Sunday at 9:00 AMKnowing God Study by J.I. Packer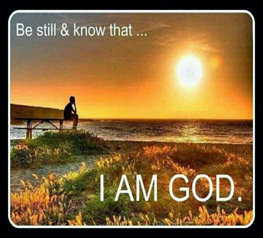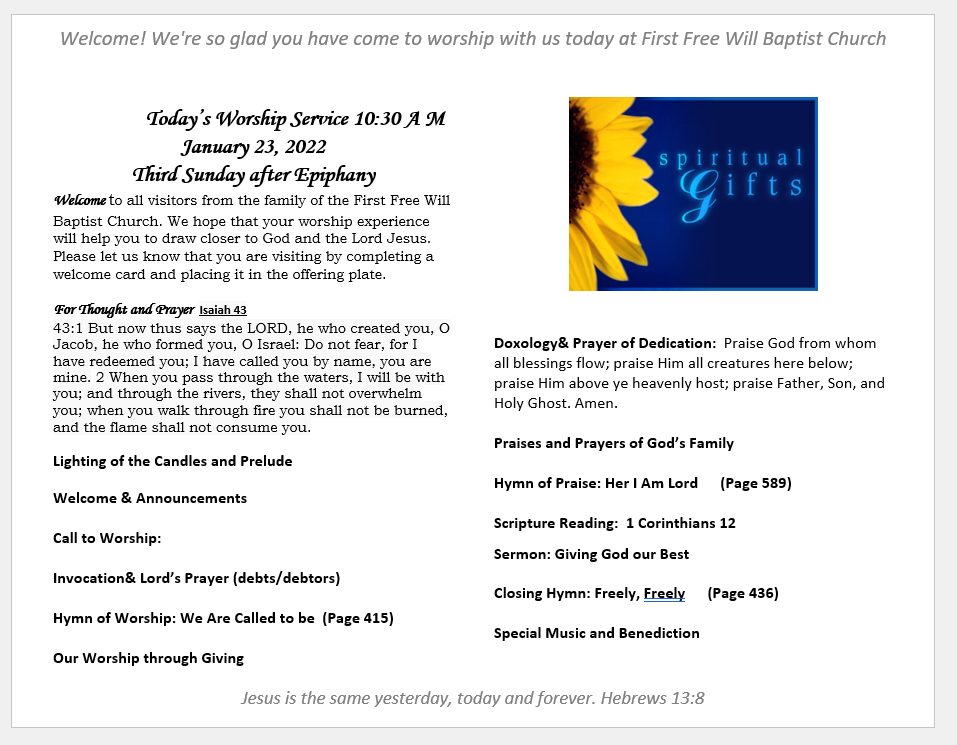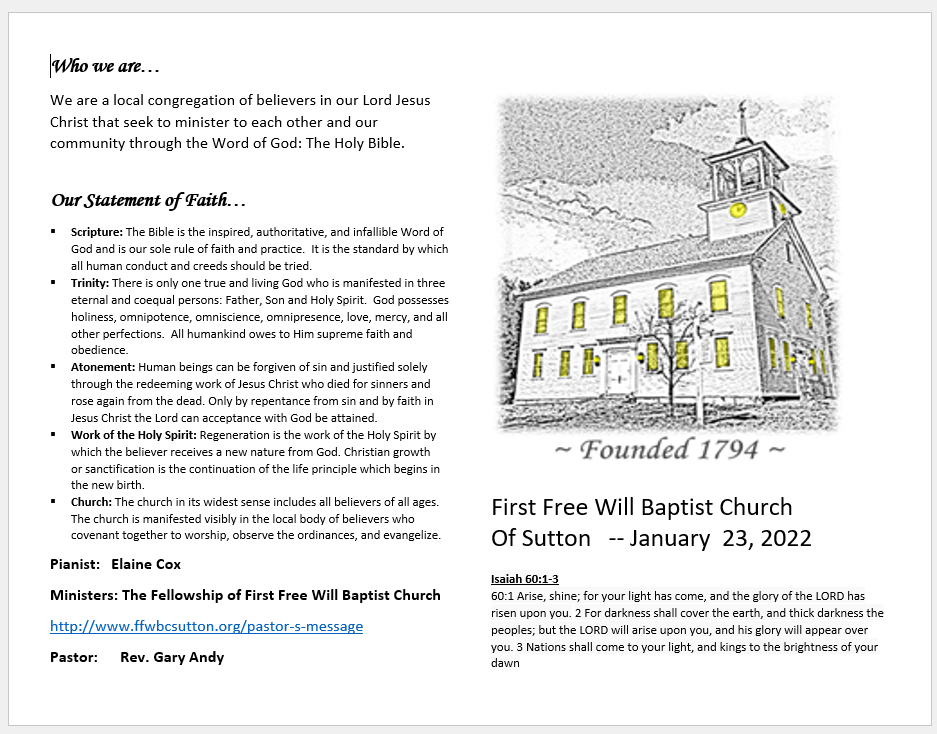 For Thought and Prayer
To fulfill the ancient promise of salvation, O God,
you made a covenant with our ancestors
and pledged them descendants more numerous than the stars.
Grant that all people may share in the blessings of your covenant,
accomplished through the death and resurrection of your Son
and sealed by the gift of your Spirit. Amen.
---------------------------------------------------------------------------------------------------------------------------------
https://youtube.com/embed/dnvg0OtupuI?autoplay=1
How Great Thou Art
Right click on link above, then chose open in new window
-----------------------------------------------------------------------------------------------------Invocation and Saying of Lord's Prayer (debts/debtors):
Gracious God, in Jesus we find our true Lord. As His people we worship and give thanks for this great gift of new life. Help us to draws closer to you by loving, trusting, and listening to the Voice that calls to us in the night. Nurture and equip us as faithful leaders of your gospel message of salvation to all those in need. This we pray in faith through Jesus our Lord who taught us to pray, saying: Our Father who art in heaven ….The Lord's PrayerOur Father, who art in heaven,
hallowed be thy name.
Thy Kingdom come,
thy will be done,
on earth as it is in heaven.
Give us this day our daily bread. And forgive us our debts, as we forgive our debtors.
And lead us not into temptation,
but deliver us from evil.
For thine is the kingdom, the power, and
the glory forever. Amen
_______________________________________________
Hymn of Worship - https://youtube.com/embed/ca9LnzJnpjQ?autoplay=1
Right click on link and then click open in new window
Days of Elijah
_______________________________________________
SERMON TITLE: GIVING GOD OUR BEST
_______________________________________________
1 Corinthians 12 Spiritual Gifts
1. Now concerning spiritual gifts,[a] brothers and sisters,[b] I do not want you to be uninformed. 2 You know that when you were pagans, you were enticed and led astray to idols that could not speak. 3 Therefore I want you to understand that no one speaking by the Spirit of God ever says "Let Jesus be cursed!" and no one can say "Jesus is Lord" except by the Holy Spirit.
4 Now there are varieties of gifts, but the same Spirit; 5 and there are varieties of services, but the same Lord; 6 and there are varieties of activities, but it is the same God who activates all of them in everyone. 7 To each is given the manifestation of the Spirit for the common good. 8 To one is given through the Spirit the utterance of wisdom, and to another the utterance of knowledge according to the same Spirit, 9 to another faith by the same Spirit, to another gifts of healing by the one Spirit, 10 to another the working of miracles, to another prophecy, to another the discernment of spirits, to another various kinds of tongues, to another the interpretation of tongues. 11 All these are activated by one and the same Spirit, who allots to each one individually just as the Spirit chooses.
One Body with Many Members
12 For just as the body is one and has many members, and all the members of the body, though many, are one body, so it is with Christ. 13 For in the one Spirit we were all baptized into one body—Jews or Greeks, slaves or free—and we were all made to drink of one Spirit.
14 Indeed, the body does not consist of one member but of many. 15 If the foot would say, "Because I am not a hand, I do not belong to the body," that would not make it any less a part of the body. 16 And if the ear would say, "Because I am not an eye, I do not belong to the body," that would not make it any less a part of the body. 17 If the whole body were an eye, where would the hearing be? If the whole body were hearing, where would the sense of smell be? 18 But as it is, God arranged the members in the body, each one of them, as he chose. 19 If all were a single member, where would the body be? 20 As it is, there are many members, yet one body. 21 The eye cannot say to the hand, "I have no need of you," nor again the head to the feet, "I have no need of you." 22 On the contrary, the members of the body that seem to be weaker are indispensable, 23 and those members of the body that we think less honorable we clothe with greater honor, and our less respectable members are treated with greater respect; 24 whereas our more respectable members do not need this. But God has so arranged the body, giving the greater honor to the inferior member, 25 that there may be no dissension within the body, but the members may have the same care for one another. 26 If one member suffers, all suffer together with it; if one member is honored, all rejoice together with it.
27 Now you are the body of Christ and individually members of it. 28 And God has appointed in the church first apostles, second prophets, third teachers; then deeds of power, then gifts of healing, forms of assistance, forms of leadership, various kinds of tongues. 29 Are all apostles? Are all prophets? Are all teachers? Do all work miracles? 30 Do all possess gifts of healing? Do all speak in tongues? Do all interpret? 31 But strive for the greater gifts. And I will show you a still more excellent way.
_________________________________________________
Hymn of Praise - When It's All Been Said and Done
(When song finishes, hit the back arrow on your browser to return to Church website)
------------------------------------------------------------------------------------------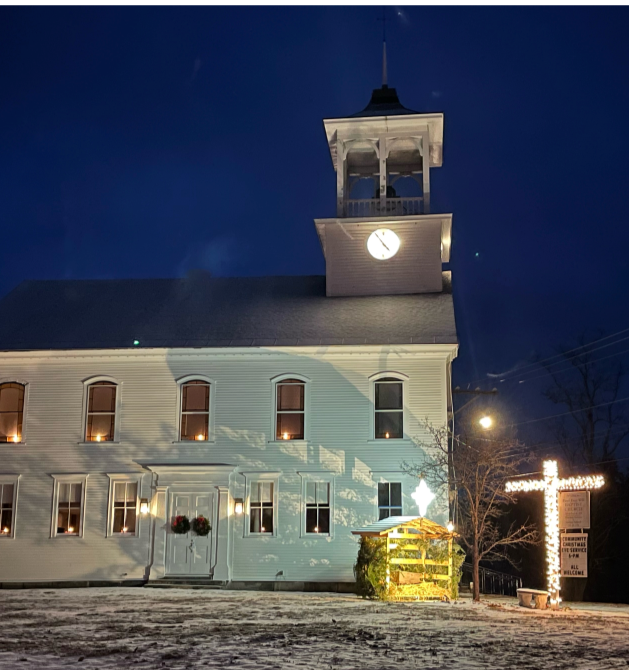 ----------------------------------------------------------------------------------------------------
Closing Hymn - Seek Ye First
(When song finishes, hit the back arrow on your browser to return to Church website)

_______________________________________________Benediction Prayer:
May the love of God sweep through all of creation, the costly grace of Jesus shine like the sun on every longing life, and the Holy Spirit warm every cold place with holy fire. Amen Let us go out into our community bringing peace this day, and forever more -- seeking the lost. Amen.