FIRST FREE WILL BAPTIST CHURCH.
WE ARE AN AMERICAN BAPTIST CHURCH FAMILYWORSHIP SERVICE @ 10:30 AM December 12, 2021 Third Sunday in Advent We Welcome New Members
https://youtube.com/embed/9khJXoL9QGk?autoplay=1.
Right click then chose "open in new window.
WE ARE A WARM AND CARING CONGREGATION SERVING GOD BY MINISTERING TO EACH OTHER AND OUR COMMUNITY
Bible Study is Sunday at 9:00 AMKnowing God Study by J.I. Packer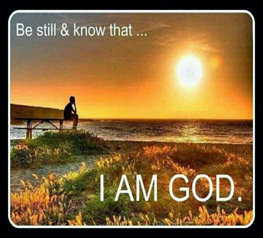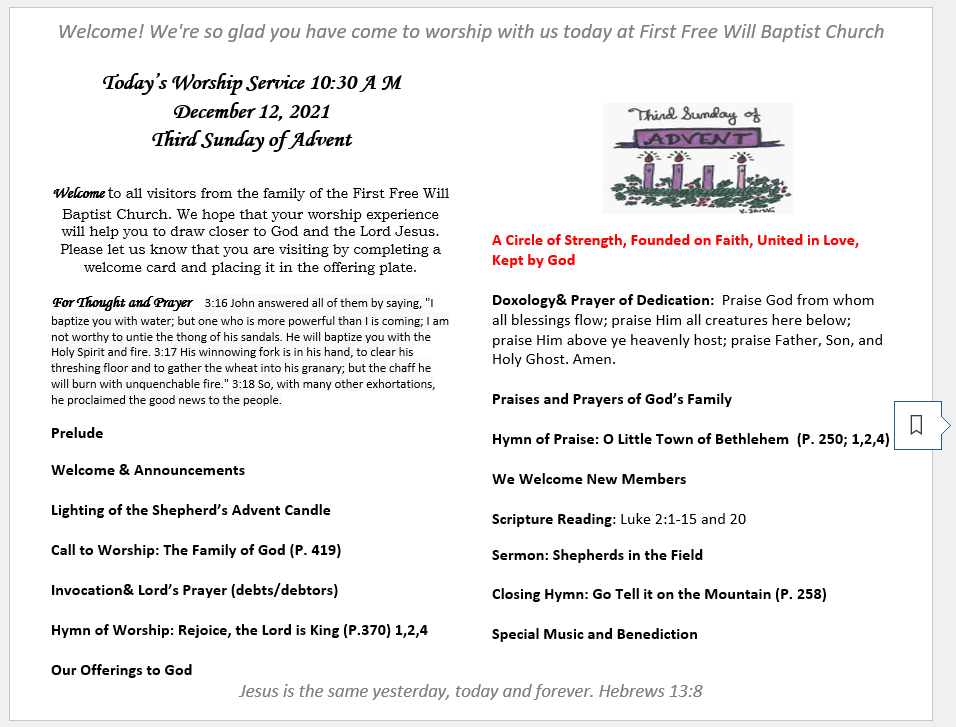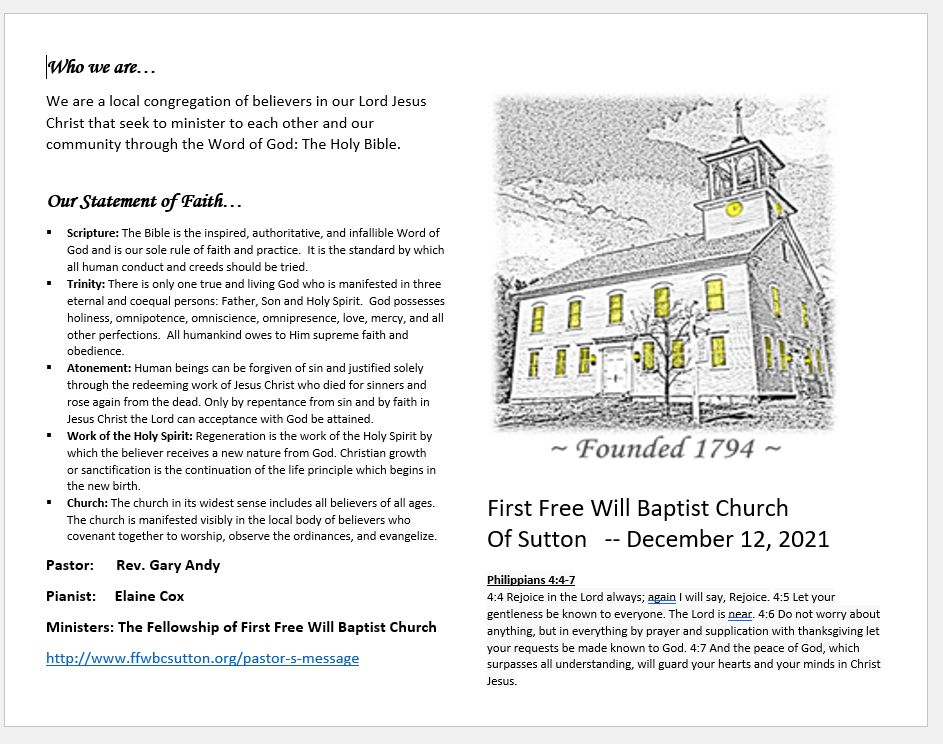 For Thought and Prayer
To fulfill the ancient promise of salvation, O God,
you made a covenant with our ancestors
and pledged them descendants more numerous than the stars.
Grant that all people may share in the blessings of your covenant,
accomplished through the death and resurrection of your Son
and sealed by the gift of your Spirit. Amen.
---------------------------------------------------------------------------------------------------------------------------------
https://youtube.com/embed/dnvg0OtupuI?autoplay=1
How Great Thou Art
Right click on link above, then chose open in new window
-----------------------------------------------------------------------------------------------------Invocation and Saying of Lord's Prayer (debts/debtors):
Gracious God, in Jesus we find our true Lord. As His people we worship and give thanks for this great gift of new life. Help us to draws closer to you by loving, trusting, and listening to the Voice that calls to us in the night. Nurture and equip us as faithful leaders of your gospel message of salvation to all those in need. This we pray in faith through Jesus our Lord who taught us to pray, saying: Our Father who art in heaven ….The Lord's PrayerOur Father, who art in heaven,
hallowed be thy name.
Thy Kingdom come,
thy will be done,
on earth as it is in heaven.
Give us this day our daily bread. And forgive us our debts, as we forgive our debtors.
And lead us not into temptation,
but deliver us from evil.
For thine is the kingdom, the power, and
the glory forever. Amen
_______________________________________________
Hymn of Worship - https://youtube.com/embed/ca9LnzJnpjQ?autoplay=1
Right click on link and then click open in new window
Days of Elijah
__________________________________________
SERMON TITLE: Shepherds in the FieldThe Birth of Jesus
2 In those days a decree went out from Emperor Augustus that all the world should be registered. 2 This was the first registration and was taken while Quirinius was governor of Syria. 3 All went to their own towns to be registered. 4 Joseph also went from the town of Nazareth in Galilee to Judea, to the city of David called Bethlehem, because he was descended from the house and family of David. 5 He went to be registered with Mary, to whom he was engaged and who was expecting a child. 6 While they were there, the time came for her to deliver her child. 7 And she gave birth to her firstborn son and wrapped him in bands of cloth, and laid him in a manger, because there was no place for them in the inn.
The Shepherds and the Angels
8 In that region there were shepherds living in the fields, keeping watch over their flock by night. 9 Then an angel of the Lord stood before them, and the glory of the Lord shone around them, and they were terrified. 10 But the angel said to them, "Do not be afraid; for see—I am bringing you good news of great joy for all the people: 11 to you is born this day in the city of David a Savior, who is the Messiah,[a] the Lord. 12 This will be a sign for you: you will find a child wrapped in bands of cloth and lying in a manger." 13 And suddenly there was with the angel a multitude of the heavenly host,[b] praising God and saying,
14 "Glory to God in the highest heaven,
and on earth peace among those whom he favors!"[c]
15 When the angels had left them and gone into heaven, the shepherds said to one another, "Let us go now to Bethlehem and see this thing that has taken place, which the Lord has made known to us." 16 So they went with haste and found Mary and Joseph, and the child lying in the manger. 17 When they saw this, they made known what had been told them about this child; 18 and all who heard it were amazed at what the shepherds told them. 19 But Mary treasured all these words and pondered them in her heart. 20 The shepherds returned, glorifying and praising God for all they had heard and seen, as it had been told them.

_________________________________________________
Hymn of Praise - When It's All Been Said and Done
(When song finishes, hit the back arrow on your browser to return to Church website)
------------------------------------------------------------------------------------------
FOR THE YOUNG AT HEART
___________________________________________________________________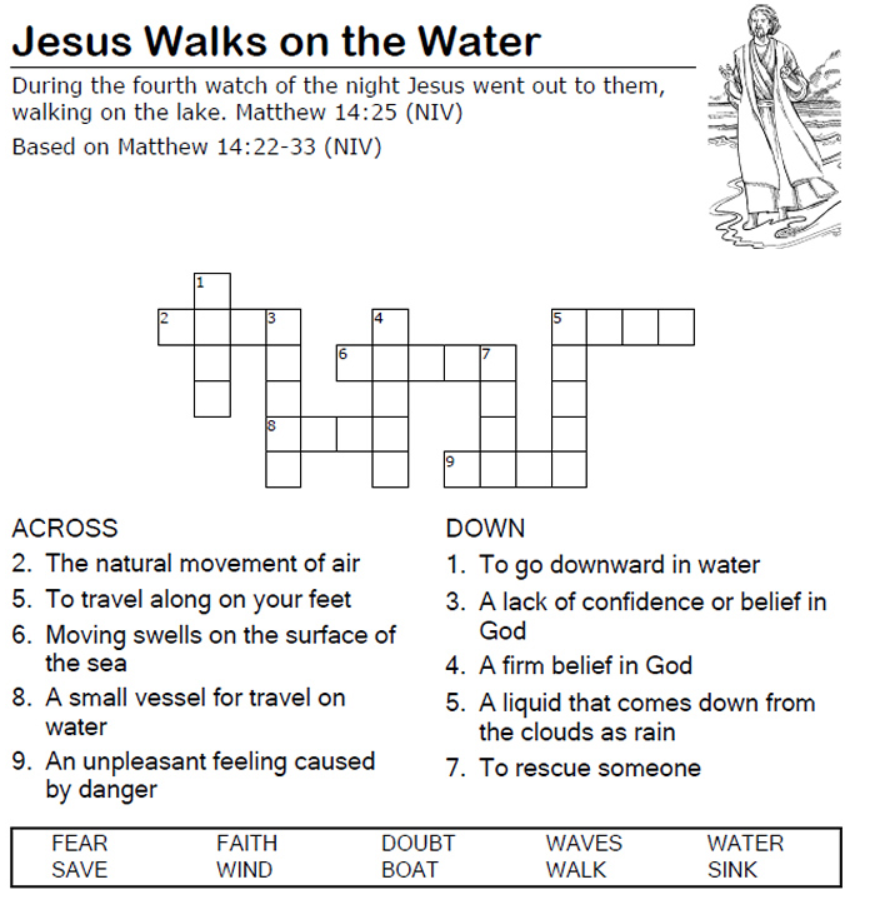 ----------------------------------------------------------------------------------------------------
Closing Hymn - Seek Ye First
(When song finishes, hit the back arrow on your browser to return to Church website)

_______________________________________________Benediction Prayer:
May the love of God sweep through all of creation, the costly grace of Jesus shine like the sun on every longing life, and the Holy Spirit warm every cold place with holy fire. Amen Let us go out into our community bringing peace this day, and forever more -- seeking the lost. Amen.