FIRST FREE WILL BAPTIST CHURCH.
WE ARE AN AMERICAN BAPTIST CHURCH FAMILYWORSHIP SERVICE @ 10:30 AM July 11, 2021 https://youtube.com/embed/9khJXoL9QGk?autoplay=1.
Right click then chose "open in new window.
WE ARE A WARM AND CARING CONGREGATION SERVING GOD BY MINISTERING TO EACH OTHER AND OUR COMMUNITY
ALL WELCOME
DATE IS JULY 11, 2021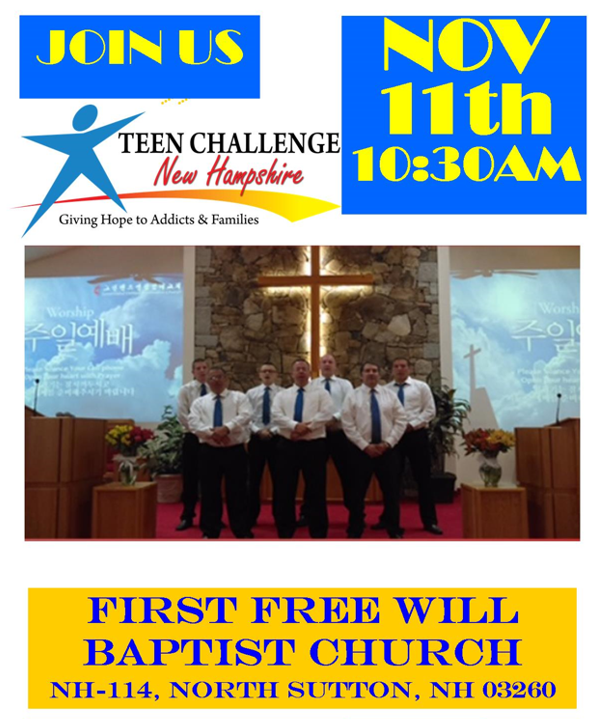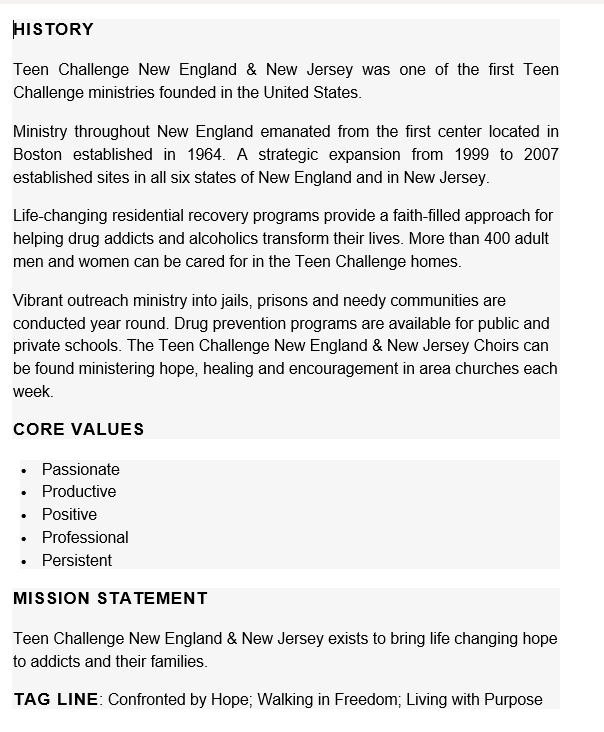 COME AND WORSHIP WHAT GOD CAN DO IN PEOPLE'S LIVES -- AND BE RENEWED. 10:30 AM SUNDAY JULY 11, 2021For Thought and Prayer
To fulfill the ancient promise of salvation, O God,
you made a covenant with our ancestors
and pledged them descendants more numerous than the stars.
Grant that all people may share in the blessings of your covenant,
accomplished through the death and resurrection of your Son
and sealed by the gift of your Spirit. Amen.
---------------------------------------------------------------------------------------------------------------------------------
https://youtube.com/embed/dnvg0OtupuI?autoplay=1
How Great Thou Art
Right click on link above, then chose open in new window
-----------------------------------------------------------------------------------------------------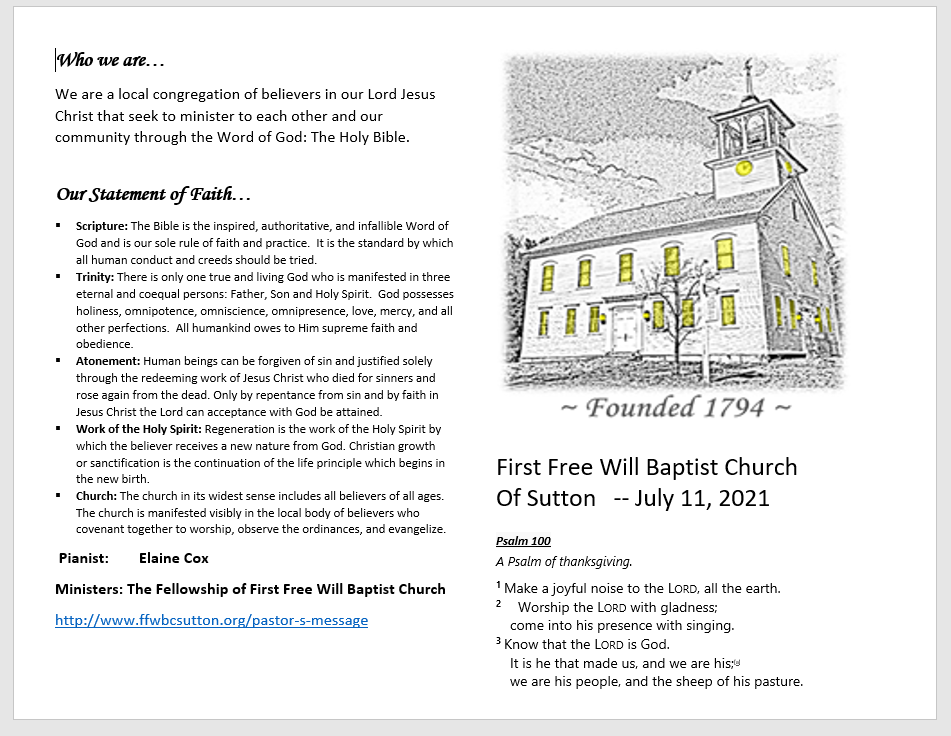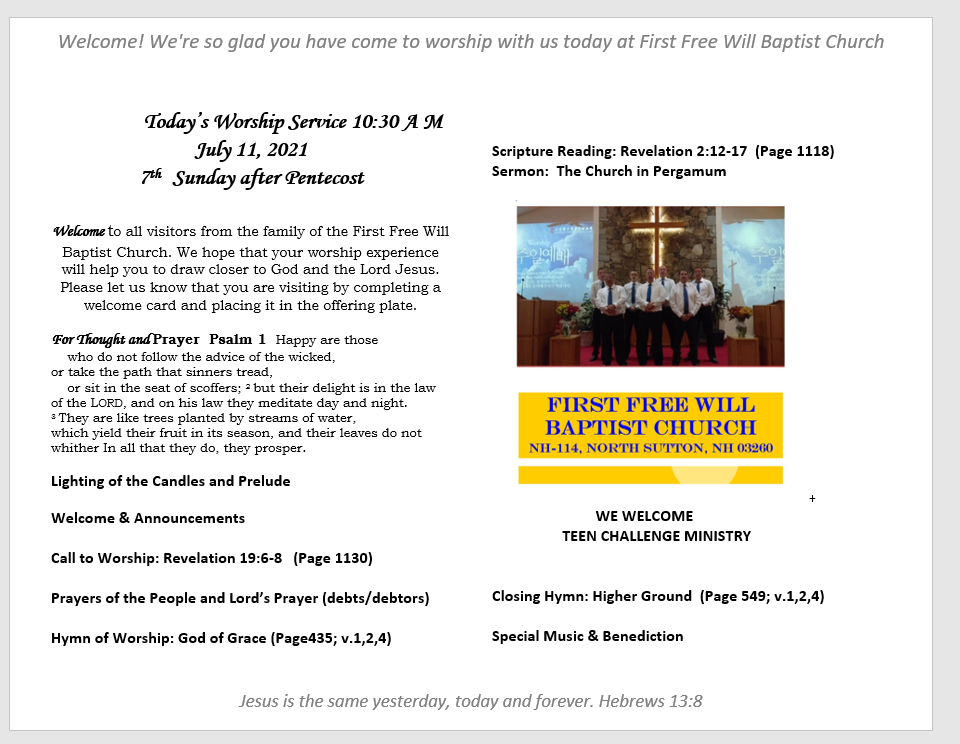 Invocation and Saying of Lord's Prayer (debts/debtors):
Gracious God, in Jesus we find our true Lord. As His people we worship and give thanks for this great gift of new life. Help us to draws closer to you by loving, trusting, and listening to the Voice that calls to us in the night. Nurture and equip us as faithful leaders of your gospel message of salvation to all those in need. This we pray in faith through Jesus our Lord who taught us to pray, saying: Our Father who art in heaven ….The Lord's PrayerOur Father, who art in heaven,
hallowed be thy name.
Thy Kingdom come,
thy will be done,
on earth as it is in heaven.
Give us this day our daily bread. And forgive us our debts, as we forgive our debtors.
And lead us not into temptation,
but deliver us from evil.
For thine is the kingdom, the power, and
the glory forever. Amen
_______________________________________________
Hymn of Worship - https://youtube.com/embed/ca9LnzJnpjQ?autoplay=1
Right click on link and then click open in new window
Days of Elijah
__________________________________________
SERMON TITLE: THE CHURCH IN PERGAMUM
_________________________________________________
Chapter 1 to re-read:REVELATION 1Introduction and Salutation
1 The revelation of Jesus Christ, which God gave him to show his servants[a] what must soon take place; he made[b] it known by sending his angel to his servant[c] John, 2 who testified to the word of God and to the testimony of Jesus Christ, even to all that he saw.
3 Blessed is the one who reads aloud the words of the prophecy, and blessed are those who hear and who keep what is written in it; for the time is near.
4 John to the seven churches that are in Asia:
Grace to you and peace from him who is and who was and who is to come, and from the seven spirits who are before his throne, 5 and from Jesus Christ, the faithful witness, the firstborn of the dead, and the ruler of the kings of the earth.
To him who loves us and freed[d] us from our sins by his blood, 6 and made[e] us to be a kingdom, priests serving[f] his God and Father, to him be glory and dominion forever and ever. Amen.
7 Look! He is coming with the clouds;
every eye will see him,
even those who pierced him;
and on his account all the tribes of the earth will wail.
So it is to be. Amen.
8 "I am the Alpha and the Omega," says the Lord God, who is and who was and who is to come, the Almighty.
A Vision of Christ
9 I, John, your brother who share with you in Jesus the persecution and the kingdom and the patient endurance, was on the island called Patmos because of the word of God and the testimony of Jesus.[g] 10 I was in the spirit[h] on the Lord's day, and I heard behind me a loud voice like a trumpet 11 saying, "Write in a book what you see and send it to the seven churches, to Ephesus, to Smyrna, to Pergamum, to Thyatira, to Sardis, to Philadelphia, and to Laodicea."
12 Then I turned to see whose voice it was that spoke to me, and on turning I saw seven golden lampstands, 13 and in the midst of the lampstands I saw one like the Son of Man, clothed with a long robe and with a golden sash across his chest. 14 His head and his hair were white as white wool, white as snow; his eyes were like a flame of fire, 15 his feet were like burnished bronze, refined as in a furnace, and his voice was like the sound of many waters. 16 In his right hand he held seven stars, and from his mouth came a sharp, two-edged sword, and his face was like the sun shining with full force.
17 When I saw him, I fell at his feet as though dead. But he placed his right hand on me, saying, "Do not be afraid; I am the first and the last, 18 and the living one. I was dead, and see, I am alive forever and ever; and I have the keys of Death and of Hades. 19 Now write what you have seen, what is, and what is to take place after this. 20 As for the mystery of the seven stars that you saw in my right hand, and the seven golden lampstands: the seven stars are the angels of the seven churches, and the seven lampstands are the seven churches.
The Message to Ephesus Passage for June 27, 2021
2 "To the angel of the church in Ephesus write: These are the words of him who holds the seven stars in his right hand, who walks among the seven golden lampstands:
2 "I know your works, your toil and your patient endurance. I know that you cannot tolerate evildoers; you have tested those who claim to be apostles but are not, and have found them to be false. 3 I also know that you are enduring patiently and bearing up for the sake of my name, and that you have not grown weary. 4 But I have this against you, that you have abandoned the love you had at first. 5 Remember then from what you have fallen; repent, and do the works you did at first. If not, I will come to you and remove your lampstand from its place, unless you repent. 6 Yet this is to your credit: you hate the works of the Nicolaitans, which I also hate. 7 Let anyone who has an ear listen to what the Spirit is saying to the churches. To everyone who conquers, I will give permission to eat from the tree of life that is in the paradise of God.Revelation 2:12-17 New Revised Standard Version
The Message to Pergamum
12 "And to the angel of the church in Pergamum write: These are the words of him who has the sharp two-edged sword:
13 "I know where you are living, where Satan's throne is. Yet you are holding fast to my name, and you did not deny your faith in me[a] even in the days of Antipas my witness, my faithful one, who was killed among you, where Satan lives. 14 But I have a few things against you: you have some there who hold to the teaching of Balaam, who taught Balak to put a stumbling block before the people of Israel, so that they would eat food sacrificed to idols and practice fornication. 15 So you also have some who hold to the teaching of the Nicolaitans. 16 Repent then. If not, I will come to you soon and make war against them with the sword of my mouth. 17 Let anyone who has an ear listen to what the Spirit is saying to the churches. To everyone who conquers I will give some of the hidden manna, and I will give a white stone, and on the white stone is written a new name that no one knows except the one who receives it.
____________________________________
Hymn of Praise - When It's All Been Said and Done
(When song finishes, hit the back arrow on your browser to return to Church website)
------------------------------------------------------------------------------------------
FOR THE YOUNG AT HEART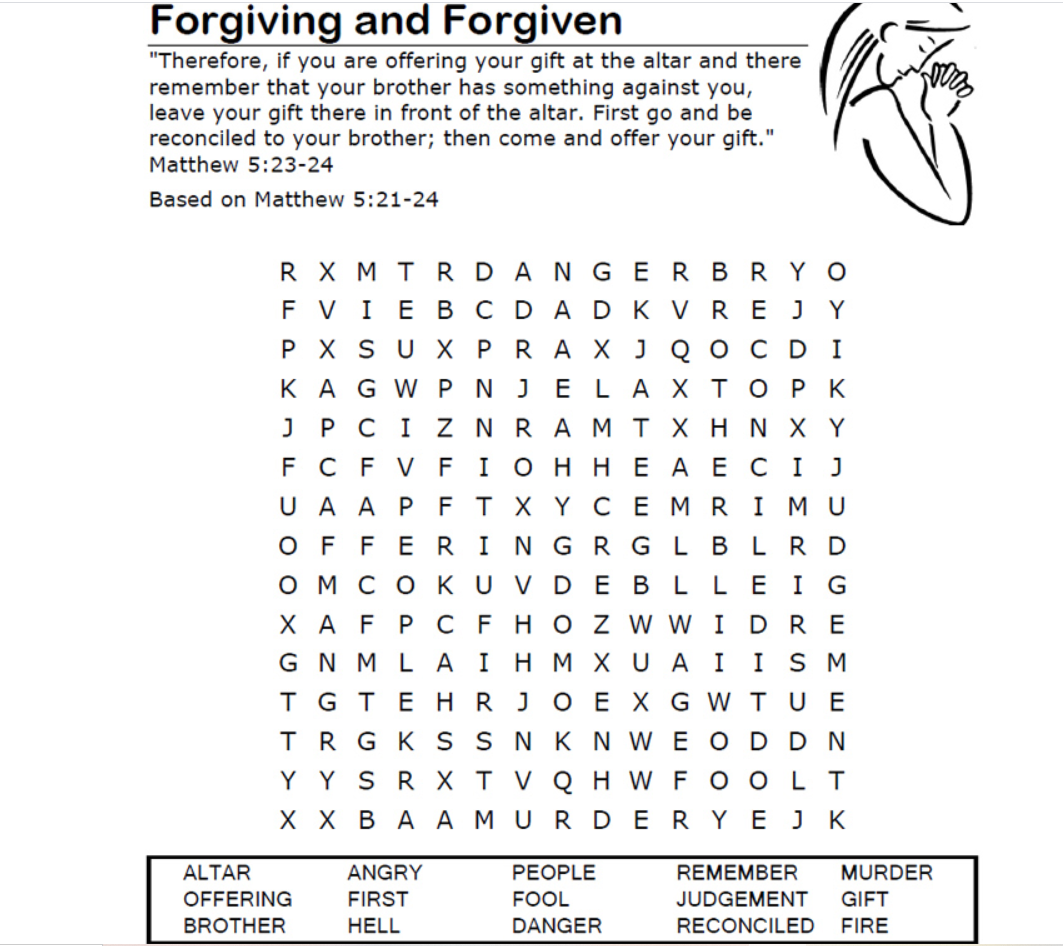 ___________________________________________________________________
Closing Hymn - Seek Ye First
(When song finishes, hit the back arrow on your browser to return to Church website)

_______________________________________________Benediction Prayer:
May the love of God sweep through all of creation, the costly grace of Jesus shine like the sun on every longing life, and the Holy Spirit warm every cold place with holy fire. Amen Let us go out into our community bringing peace this day, and forever more -- seeking the lost. Amen.