Patrick Seward became a part of our church family in June of 2017. First Free Will Baptist had recently said goodbye to June Erla, our dedicated pianist. With the help of our friend John Jones and Mr. Sean Anderson, the music director at Kearsarge Regional High School, we found out that there was a talented high school student willing to become our new church pianist. It did not take long for our church to realize what a truly remarkable young man we had in our midst. Patrick has been our excellent and dependable pianist for over three years now, and it is with great pride, but also a bittersweet sadness, that we see him move to the next chapter in his life. In August, Patrick will leave us to go to college at Syracuse University, where he will continue his education in music.
Patrick's love of music started with piano lessons at age five. He soon discovered a passion for theater and performed in elementary and middle school productions.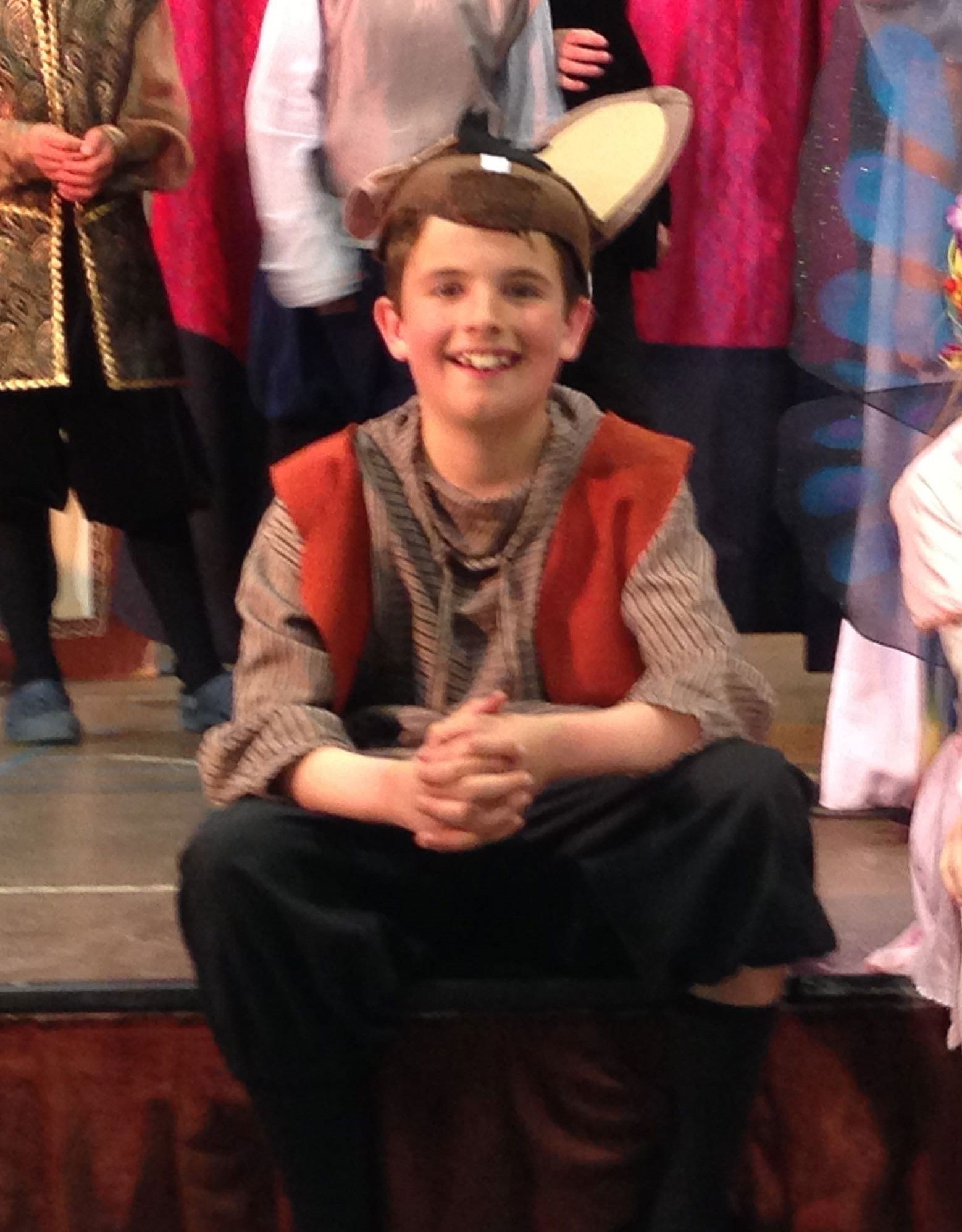 Patrick as Nick Bottom in his 5th grade production of A Midsummer Night's Dream (above), as Tevye in Fiddler on the Roof, and as Robin Hood in The Somewhat True Tale of Robin Hood (below).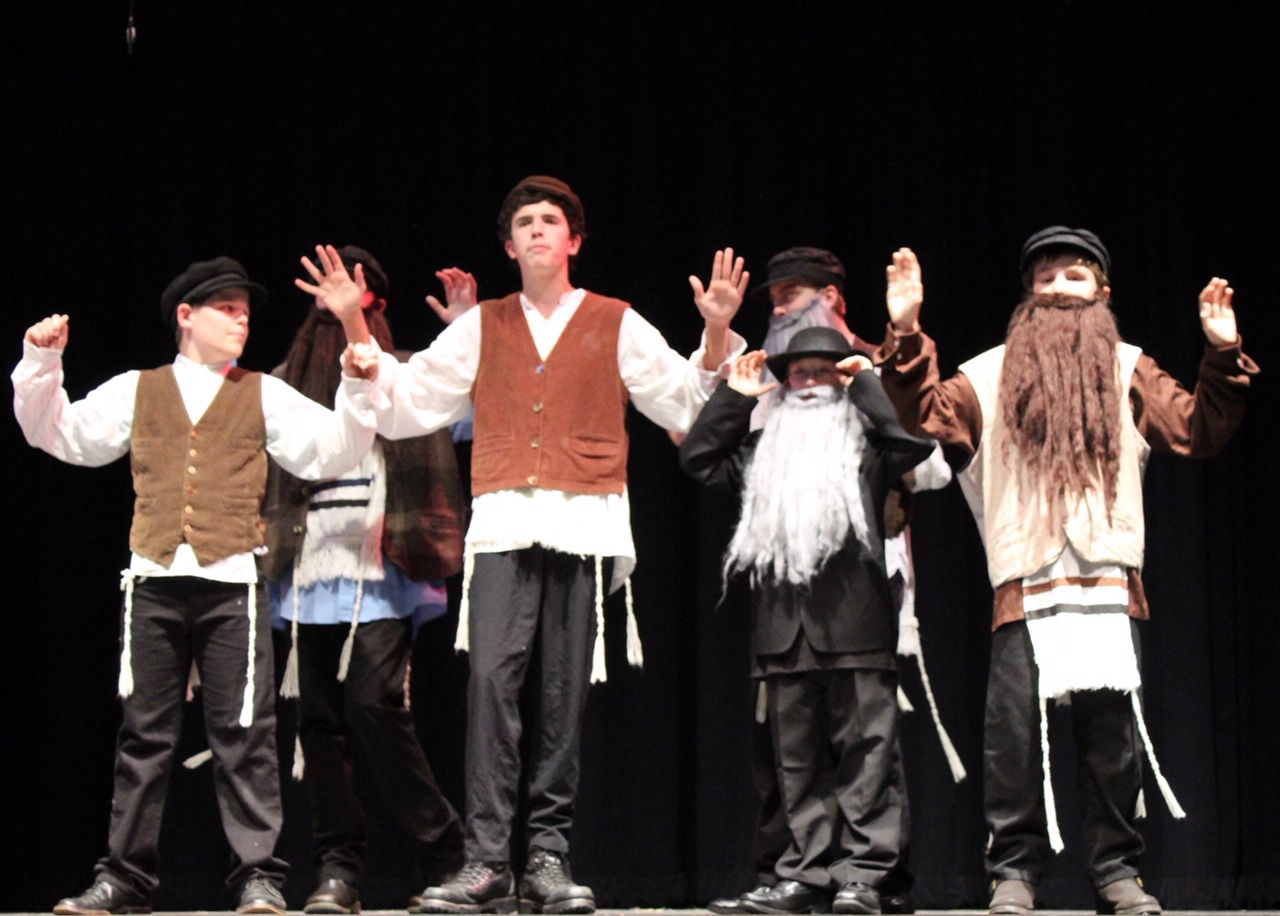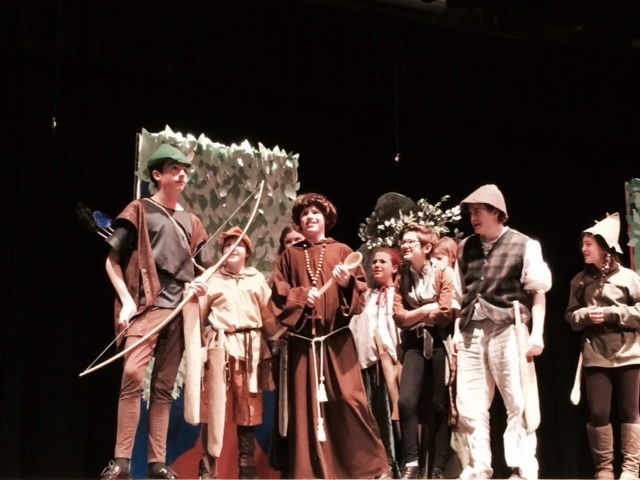 He became a Junior Intern at the Barn Playhouse in New London, NH, where he took numerous roles in his six summers there, including lead role as "Beast" in Beauty and the Beast.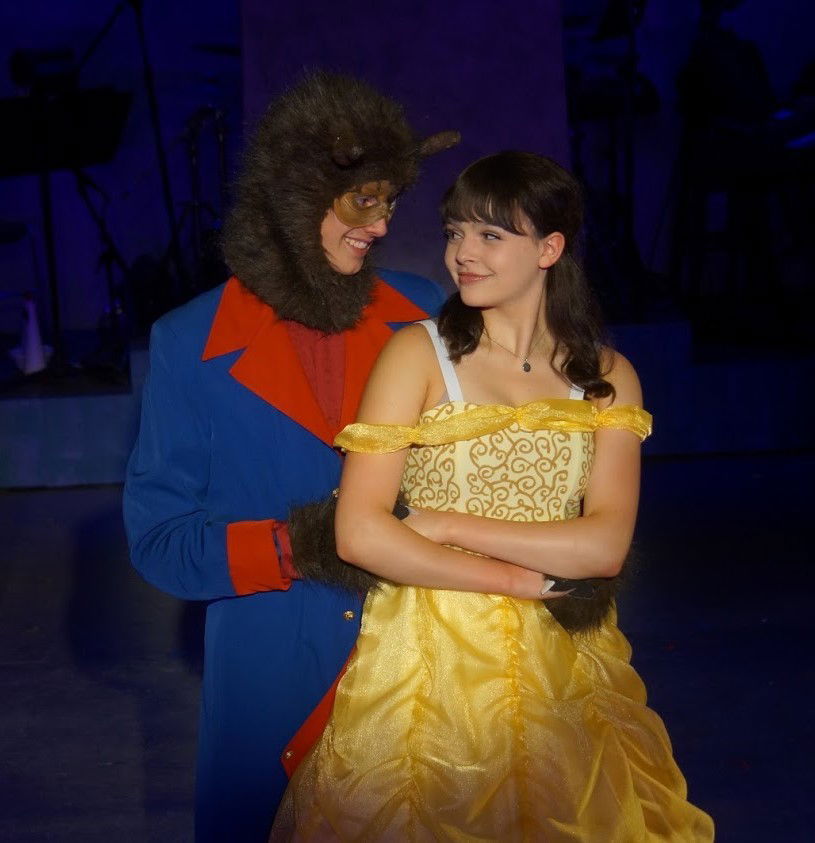 (Photo credit Disney's Beauty and the Beast, directed and choreographed by Joshua M. Feder, New London Barn Playhouse, New London, NH)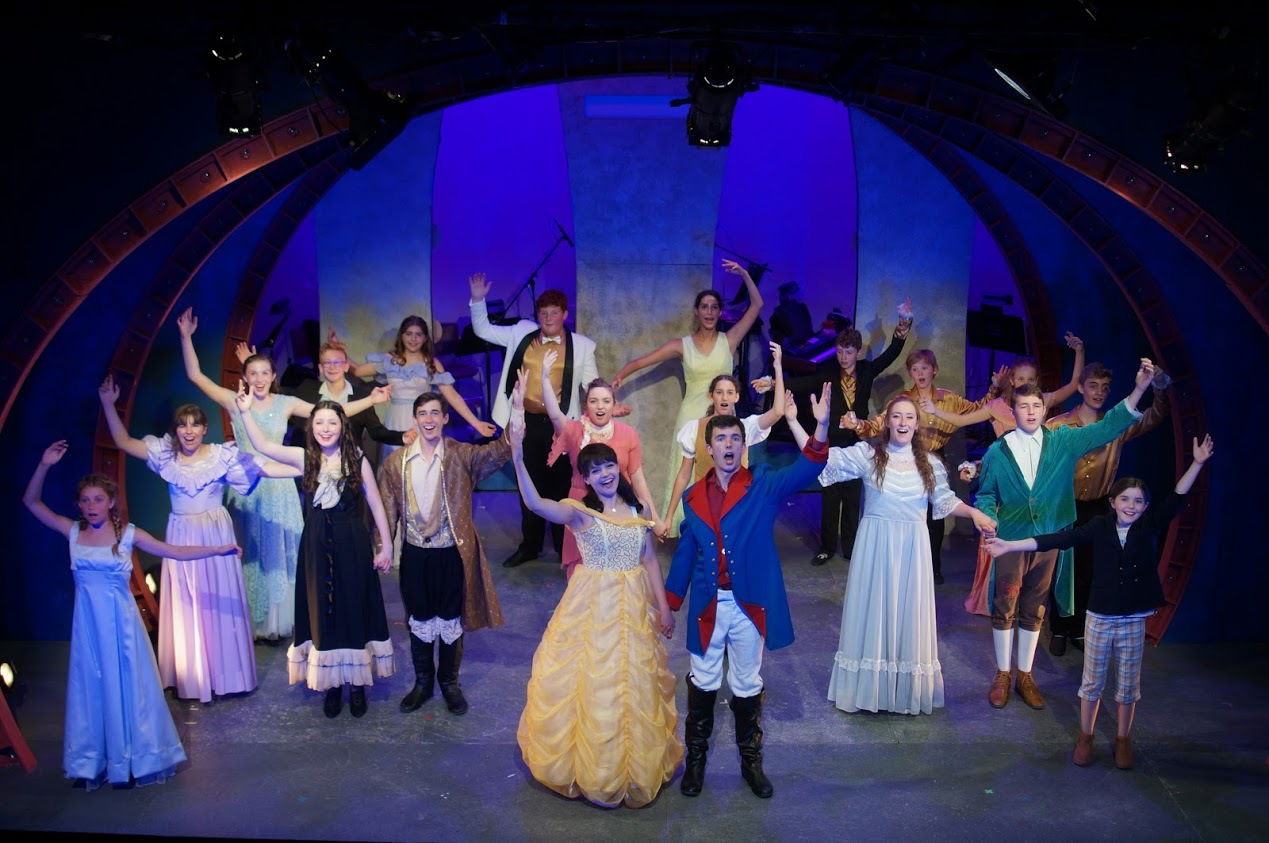 (Photo credit Disney's Beauty and the Beast, directed and choreographed by Joshua M. Feder, New London Barn Playhouse, New London, NH)
Patrick's high school music career has been spectacular! In addition to theater, he excelled in chorus, marching band (French horn), jazz band, and Men's Choir. New Hampshire state honors included selection to All State Chorus, All State Chamber Men's Choir, and All State Jazz Chorus.
Patrick has a special relationship with another member of our church family. Sandy Nelson Ray has served for many years as Director of Kearsarge Regional High School's Actors Guild, and has taught, guided, and cast Patrick in numerous and often lead roles throughout his high school years.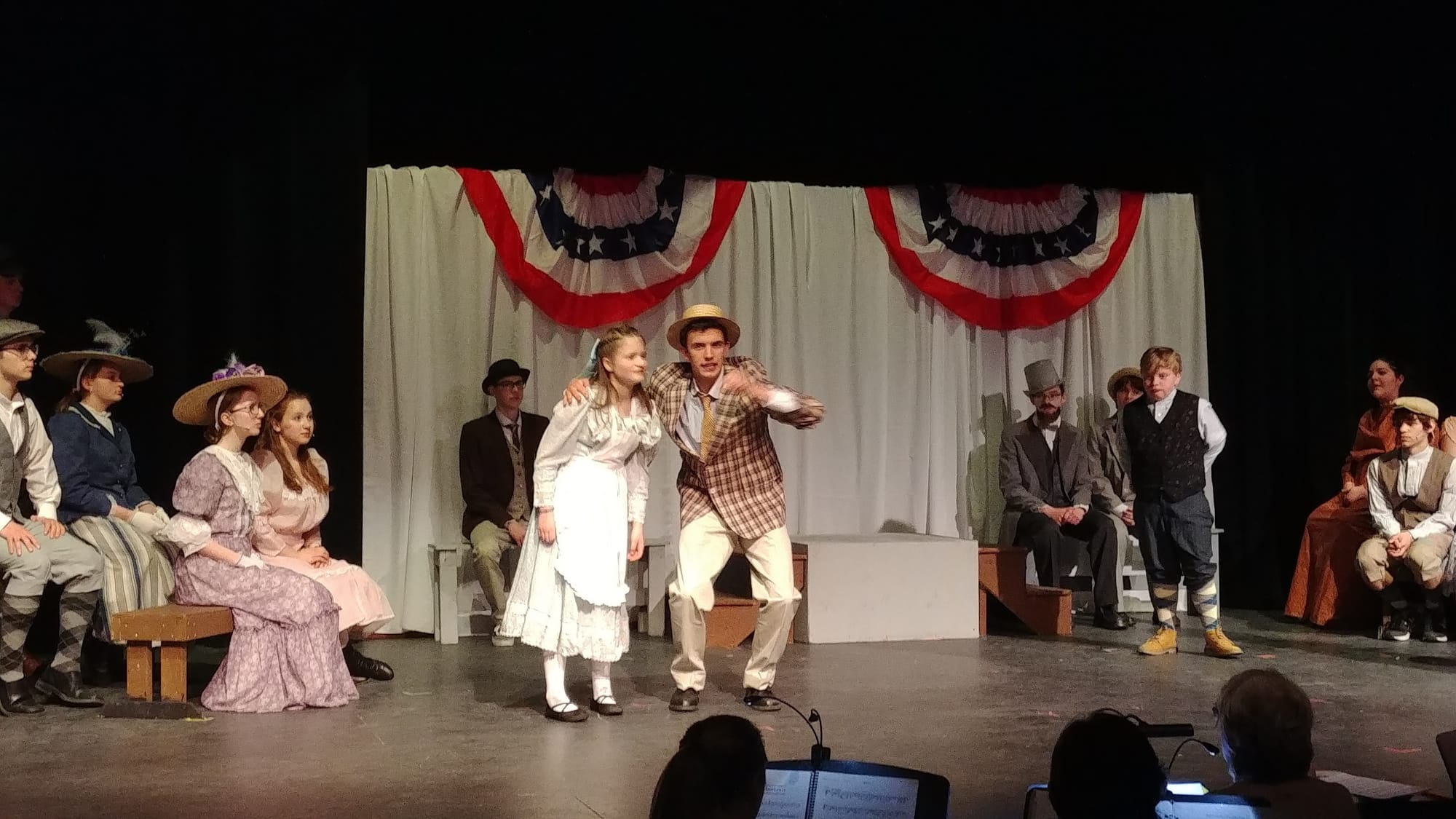 Patrick performed the lead role of Harold Hill in The Music Man, pictured above onstage, and below, after the show, with his brother, Nathaniel Seward, who played Jacey Squires.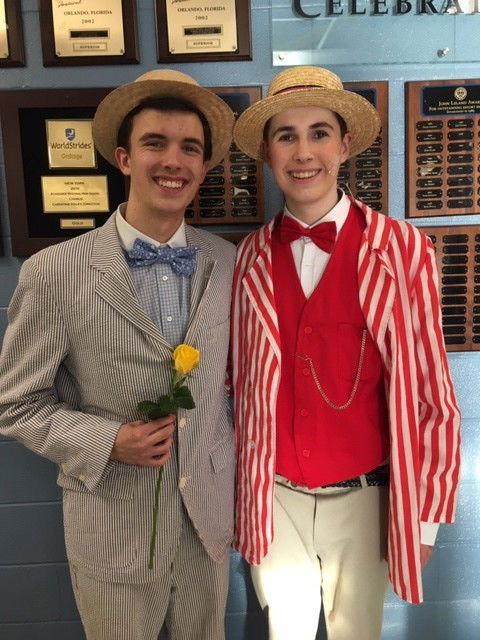 Sandy recently presented Patrick the Kearsarge Actors Guild Lifetime Achievement Award. Please open the document (below) and read about Patrick's numerous performing arts roles and honors in Sandy's own words.
You may wonder how, while building his stellar music resume and preparing for college, Patrick found time to play piano for our church. He did, though, with dedication and excellence, Sunday after Sunday. He's always been willing to go above and beyond the call of church pianist duty, too. He played piano and sang with us at Christmas Caroling events at Pine Rock Manor...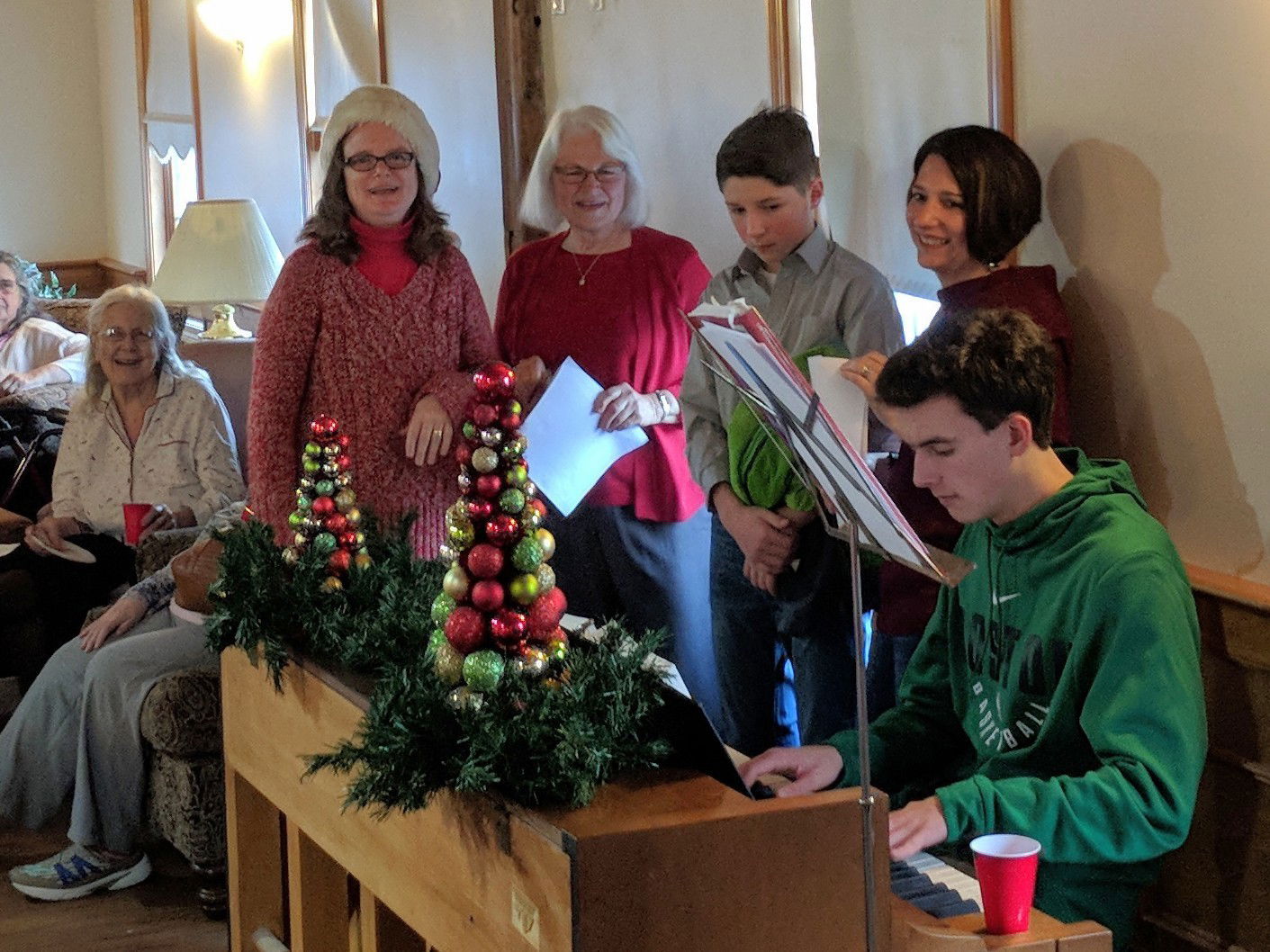 ...brought members of his Kearsarge Regional High School Men's and Women's Choir to our 2019 Community Caroling event at FFWBC...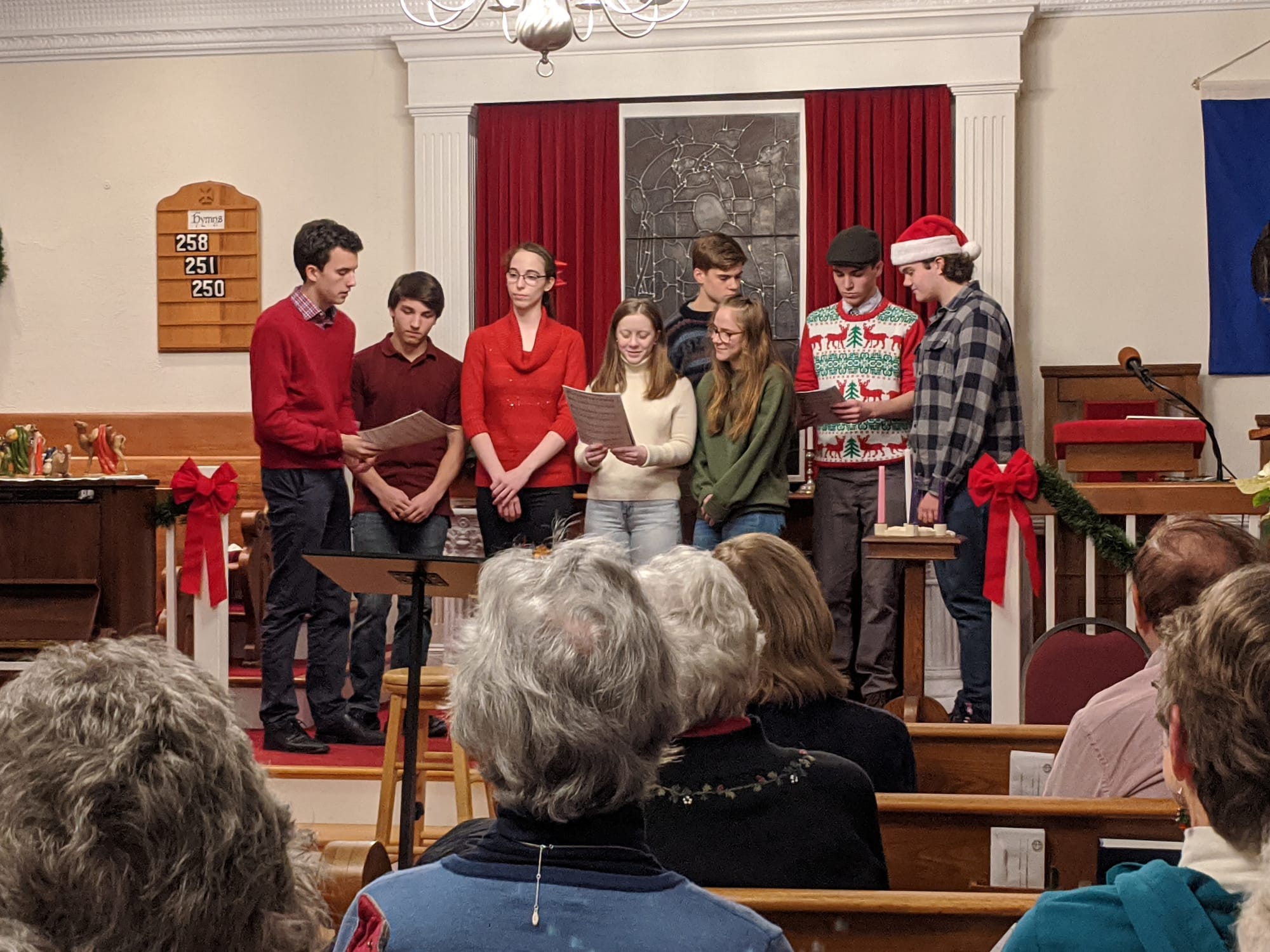 ...and transported his keyboard to a barn for worship services at Muster Field Farm.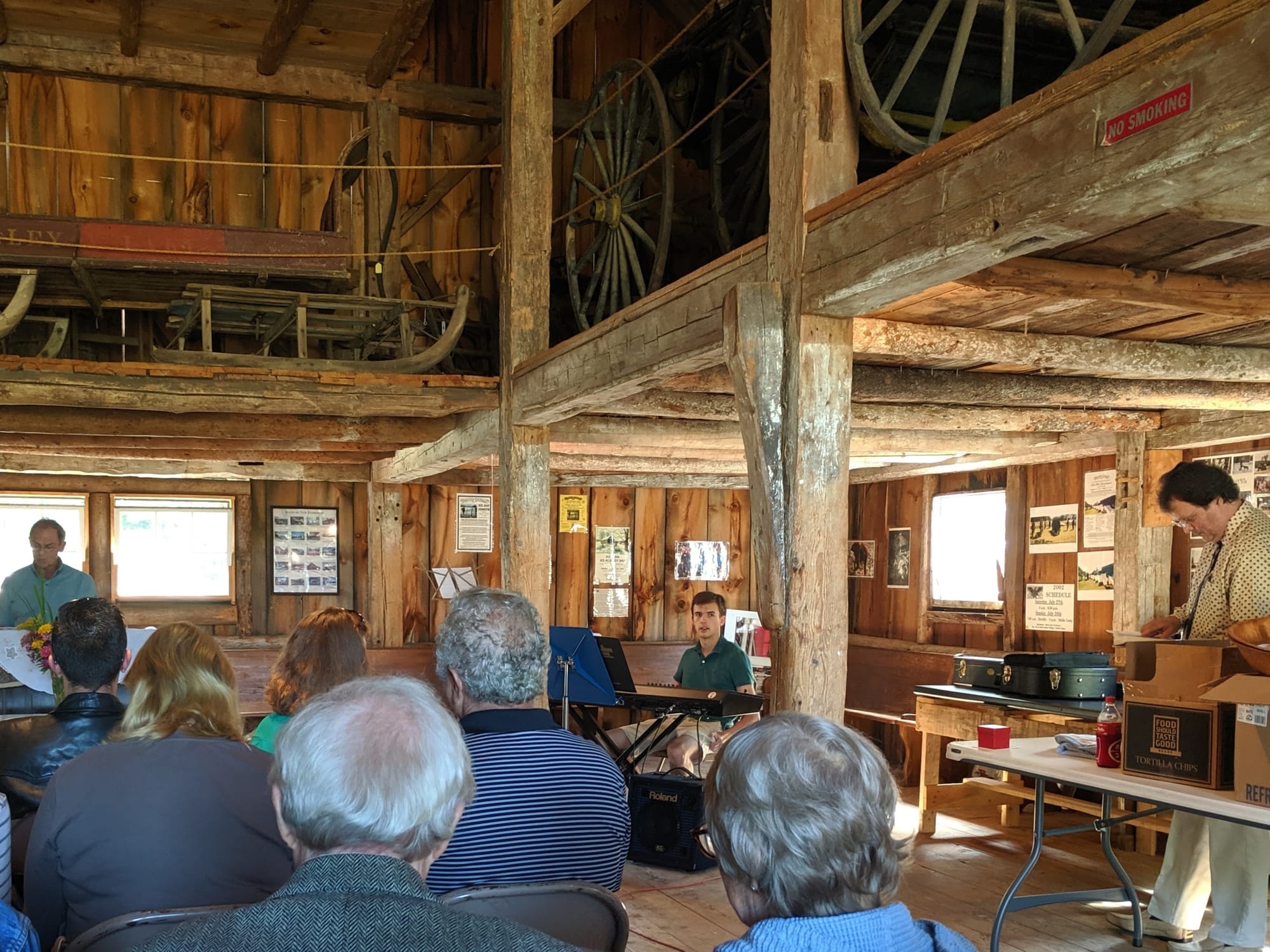 Patrick has joined us for many food and fellowship hours after Sunday worship, and has always been willing to engage in photo ops with adoring fans from church.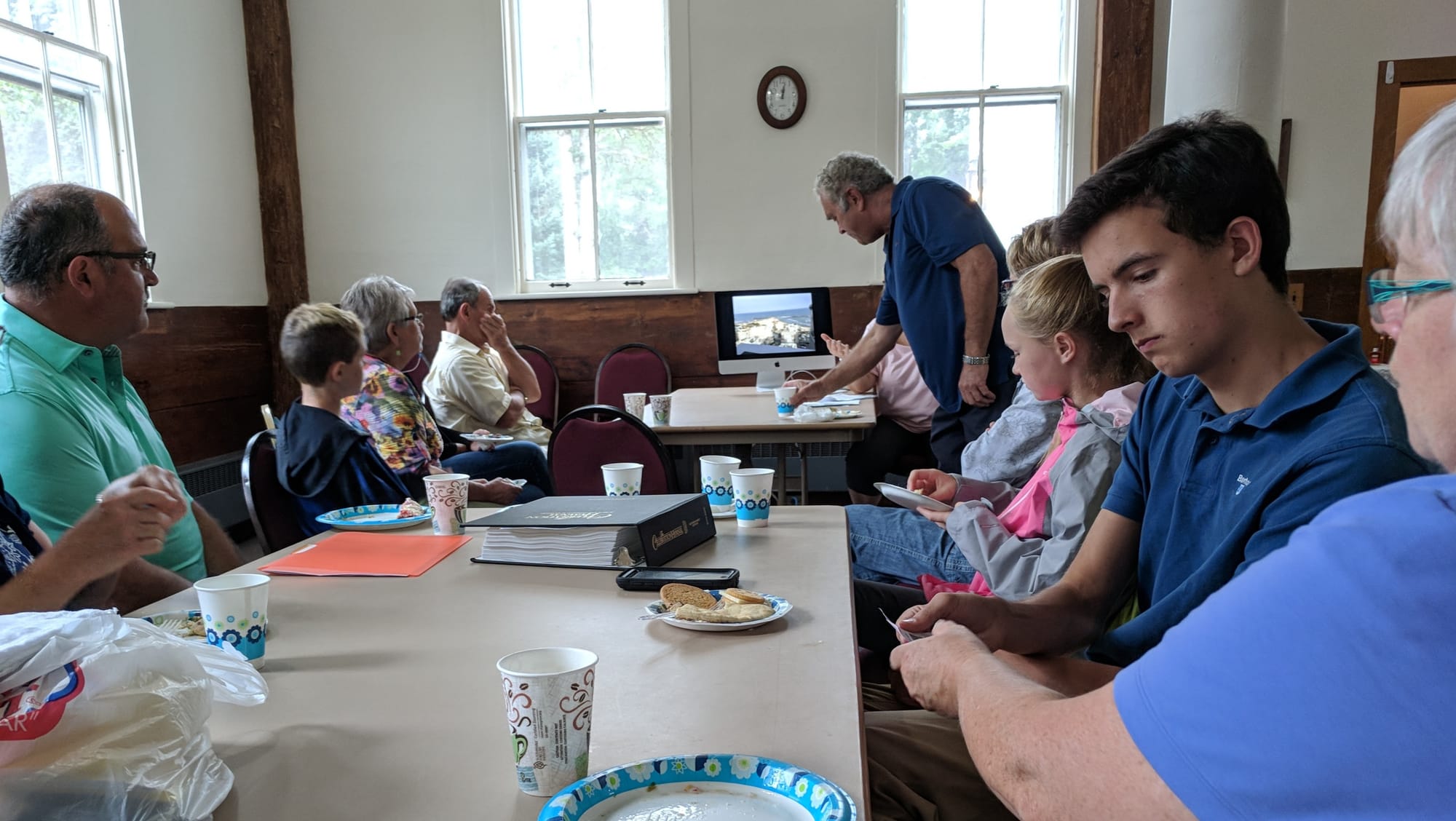 Patrick and Sue Sutton (below) after Patrick's performance as Grandpa Potts in Chitty Chitty Bang Bang at the Barn Playhouse in New London.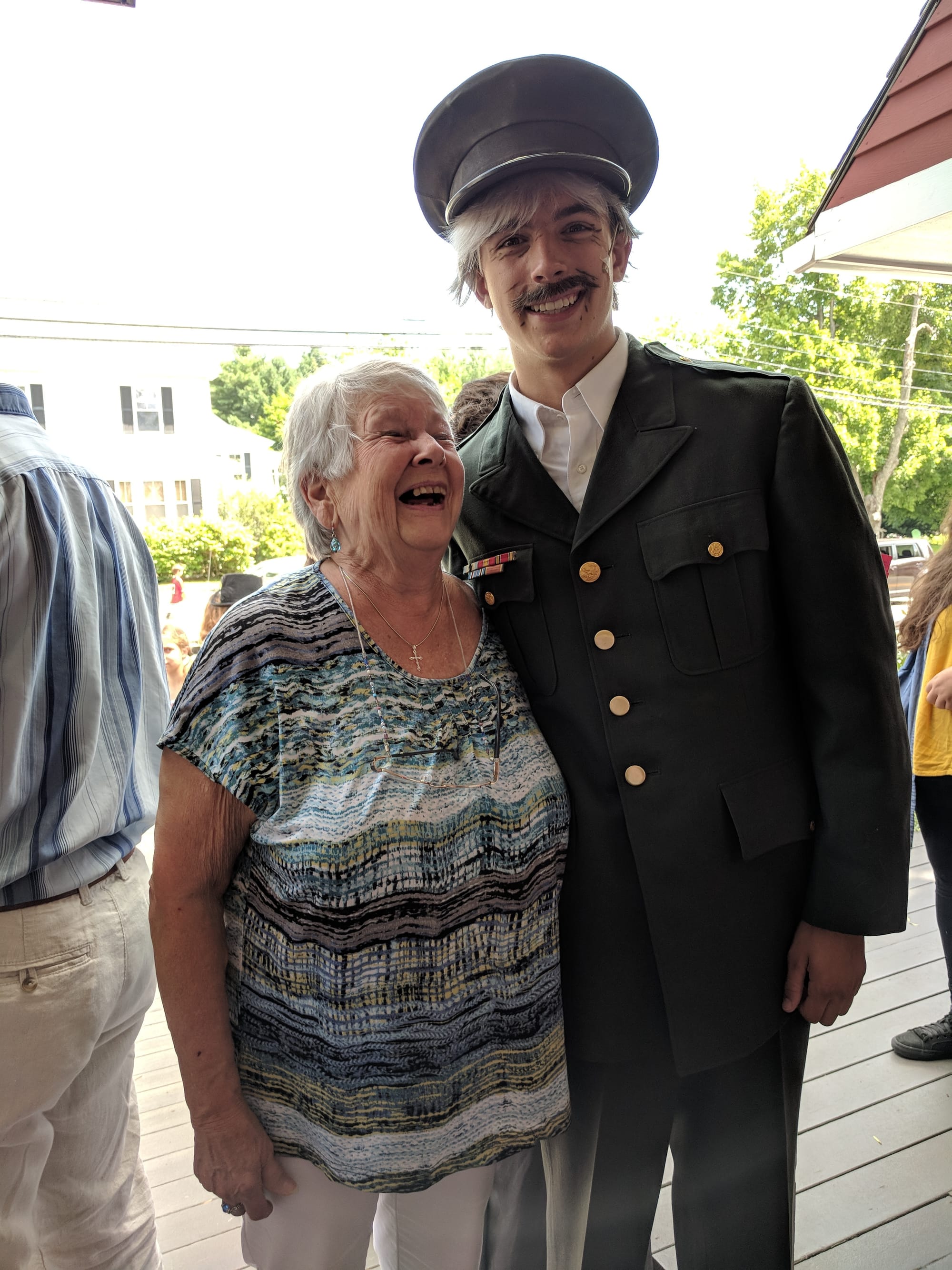 Truly, Patrick has been part of our church family, and we will miss him.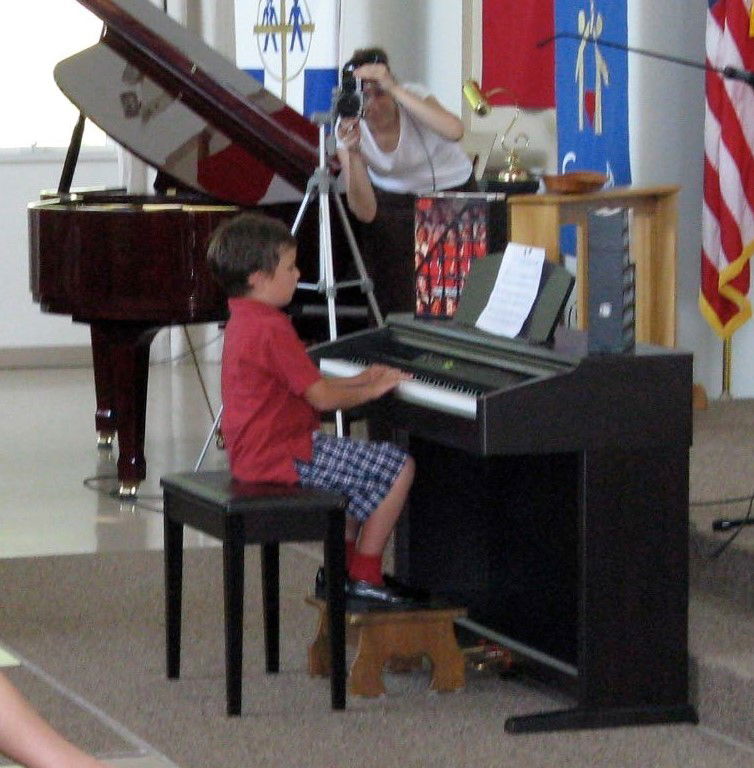 We wish Patrick well as he continues his journey in music and in life, and we'll always feel blessed that a young, promising pianist developed into such an accomplished adult pianist, and allowed us to be a part of his life.