August 18, 2019 Worship at 10:30 A.M
FELLOWSHIP TIME after our SERVICE


(new story as of AUGUST 15, 2019)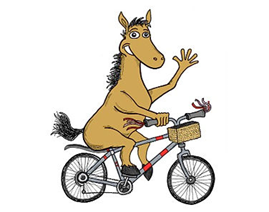 Have you heard the story about a Baptist minister looking for a horse to purchase? What name should we give this minister? This minister was a circuit rider, but having no horse; there wasn't much of a circuit to complete. He went to his local horse trader and inquired about buying a horse.
The Minister said, "Now the horse I want has to be a Christian horse because as I ride along, I'll be singing hymns, practicing my sermon, and praying. I don't want a horse that isn't Christian."
"Well you're in luck," said the horse trader. "I have just the horse for you. Her name is Faithful. In fact, Faithful only answers to Christian words. Faithful will only go when you say, Praise the Lord." Faithful will only stop when you say, Halleluiah."
"That's wonderful, said the Baptist minister, "I'll take her." The minister paid $666 for the horse and off they went back to the minister's home in the mountains.
Come hear the Rest of the story this Sunday, August 18, 2019.

Grace and Peace,
Pastor Gary
Joshua 1:1-3, 9. New Revised Standard Version
God's Commission to Joshua
1 After the death of Moses the servant of the Lord, the Lord spoke to Joshua son of Nun, Moses' assistant, saying, 2 "My servant Moses is dead. Now proceed to cross the Jordan, you and all this people, into the land that I am giving to them, to the Israelites. 3. Every place that the sole of your foot will tread upon I have given to you, as I promised to Moses.
9.I hereby command you: Be strong and courageous; do not be frightened or dismayed, for the Lord your God is with you wherever you go."
Luke 17:11 New Revised Standard Version

Jesus Cleanses Ten Lepers
11 On the way to Jerusalem Jesus[a] was going through the region between Samaria and Galilee.
Sermon Title: Stepping off the Cliff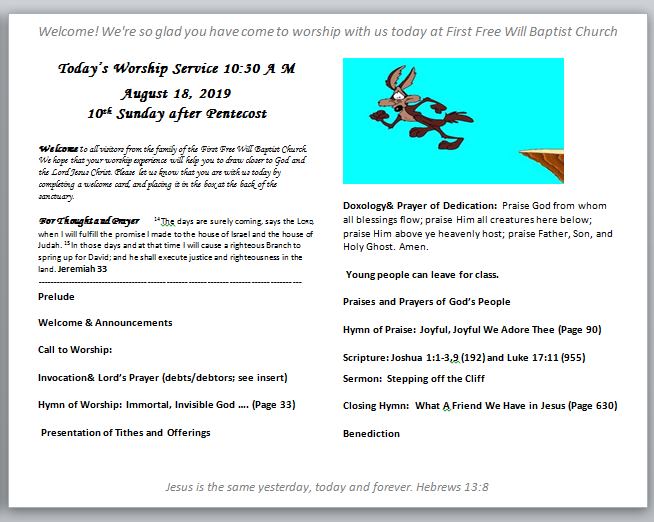 HELP!!
Please see the sign-up sheet on the downstairs bulleting board. It looks like the one below. Then go one step further and pick a date to bring some goodies. IT'S FINE TO "BUDDY UP." THANK YOU.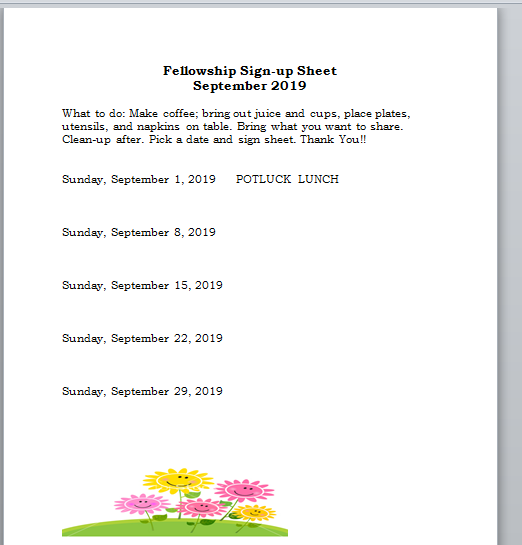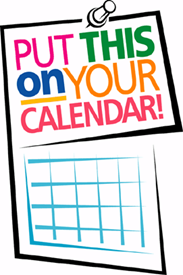 WOMEN"S MINISTRY

Sept.14th out to lunch then to His Mansion, in Deering. His Mansion is a Christian year long program for young addicts. Much like Teen Challenge. There will be a few people graduating this day, giving their personal testimonies of faith and life changes with Christ.
Please check out there web site, His Mansion Ministries. Let me know if you would be interested in going, as we can carpool.
Blessings,
Michelle


Our Bible Study will begin on Sunday, September 22, 2019 @ 9:15 A.M. We will resume with our Life Guide Study entitled Spiritual Gifts. We will start at Lesson #5, SPIRITUAL GIFTS FOR LIBERATION. Everyone is invited to attend. Contact Pastor Gary if you need a book or for information.